Girls track does well at True Team
This article submitted by Courtney Karsch on 5/12/99.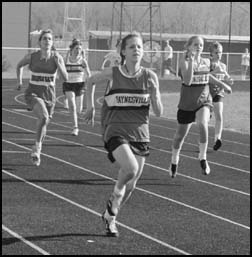 On May 4, 1999, the Paynesville girls track team headed over to Benson for a small and fun meet. It was still competitive though. The girls really dominated this meet by winning it with almost 100 points.

Again, Amber Michaelis has had another wonderful meet. She did very well in her jumps and her hurdles. In the long jump, she got first with a jump of 15' 7", in the high jump, she jumped 4' 9" and got second place, in the 100-meter hurdles she again got first with a time of 17.77, and in her last event, she got another first in the 300-meter hurdles with a time of 49.30. She has done a wonderful job this year and is still competing hard.

For a younger athlete, Melissa Bachman is also doing well in her jumps. She got a second place in the long jump with 44' 11", a fourth in the triple jump with a 30' 1", and she also reached the old school record in the pole vault with a height of 8'3". Bachman is also a new addition to the 100-meter hurdle team. She got a fourth place with a time of 19.17 and will bring some more points for the team. Bachman is also a great asset to the team. The Paynesville 3200-meter relay is doing a wonderful job as well. They are competing hard as a team and having great splits. They got a first place with a time of 11:08.47. The team members are Carin Frenchick, Leanne Kolb, Erin Aagesen, and Danielle Lieser.

Still undefeated, Jenny Hess got two first places in the 1600-meter run and in the 3200-meter run. She is a hard worker and it really pays off.

The girls are really doing a great job and are really working hard to be a good smaller team. "I like what I saw with our team depth that was shown in many of the events," said Coach Randgaard.

Section 6AA True Team Meet in Sartell

On Friday May 7, the girls track team traveled to Sartell for the beginning of the final meets. There was a total of 13 teams there.

Again, Hess defeated a very strong field of long distance runners in two exciting races. She still remains undefeated in all her races this season.

Gina Benson did very well against some top athletes. She is peaking at the right time.

Everyone just did a good job and gave it all they had.
---