Girls golf has four meets
This article submitted by Lynn Stoneburner on 5/12/99.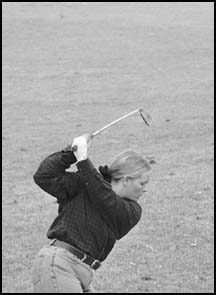 On Thursday, April 29, the Paynesville girls' golf team headed north to Albany for the fourth West Central Conference meet of the 1999 season. The weather was picture perfect.

The weather affected the team's performance. The Bulldogs finished fourth among the seven conference teams. Leading the way for Paynesville was Mary Frandson, 43; followed by Lynn Stoneburner, 49; Mackenzie Merrill, 53; and Katie Wright, 54, for a team total of 199. Other golfers participating for the Bulldogs were Erin O'Fallon, 55; Sally Heitke, and Heather Fuchs. This was the first meet of 1999 in which the Bulldogs have posted a team score below 200.

Team results were Litchfield first with 180; Albany second at 191; Sauk Centre third at 191; Paynesville fourth at 199; St. Cloud Cathedral fifth at 208; Melrose sixth at 217; and LPGE trailing at 231.

Medalist for the meet was Cassie Fenton of Litchfield, who carded a 40. Second best individually was Maggie Kane of Sauk Centre with 42. Mary Frandson's 43 was good for third place individually.

The Bulldog team features three seniors playing in their last season for Paynesville, and team members are committed to making rapid improvement as the season progresses.

Koronis Invitational
Weather for the sixth annual Paynesville tournament was pristine- even better than the great weather at Albany on Thursday. This was the golf event of the regular season for the host Paynesville Bulldogs, taking place at spectacular Koronis Hills Golf Course on Saturday, May 1.

It was "May Day" in a sense for the competition, as Mary Frandson unleashed her personal best 18-hole score of 80, finishing second individually to tournament medalist Jackie Beste of Sauk Centre, who scored 77. Third place went to Maggie Kane of Sauk Centre with 83. Fourth was Bonnie Felling of Sauk Centre with 91. Lynn Stoneburner of Paynesville was fifth at 92.

Following up on Frandson's 80 and Stoneburner's 92 were Sally Heitke with 105, and Erin O'Fallon with 111. Other golfers for the Bulldogs were Maria Janotta and Katie Wright, who posted 114 and 119 respectively.

Team results found Sauk Centre on top with 351, followed by Paynesville at 388, Litchfield at 395, and Melrose a distant fourth at 469.

The Bulldogs were pleased with 388 (which is 194 for nine holes), representing a five-stroke improvement over the team score at Albany.

Long Prairie Meet
On Tuesday, May 4, the Bulldogs were at Long Prairie for the fifth West Central Conference meet of the season.

Those contributing to Paynesville's total were Lynn Stoneburner, 47; Mary Frandson, 54; Mackenzie Merrill, 59; and Sally Heitke, 60, for a team total of 220. Other golfers for the Bulldogs were Maria Janotta, Erin O'Fallon, and Amanda Glenz.

Litchfield finished on top with a score of 190, followed by Albany, 196; Sauk Centre, 201; Cathedral, 217; Paynesville, 220; Long Prairie, 237; and Melrose, 250.

The medalist for this meet was Litchfield's Cassie Fenton with 45.

The Bulldogs hope to improve in the final conference meets of the season.

Paynesville Meet
On Friday, May 7, the Lady Bulldogs hosted the sixth WCC meet of the season at Koronis Hills Golf Course. Despite the weather, the girls entered the meet with determination.

After battling wind, rain, and the competition for nearly three hours, Paynesville's Mary Frandson emerged with a score of 43 to lead the Bulldog team. Following her were Lynn Stoneburner, turning in a 48; Katie Wright, who shot 50; and Mackenzie Merrill, who was at 51. The Bulldog team total of 192 was their best of the season, and good for third place in the meet.

Overall team results found the Albany Huskies and Litchfield Dragons on top. Both with team scores of 185. Albany was awarded first place in the meet by virtue of their team's fifth best score (Naomi Schwegler, 48), being a couple strokes better than Litchfield's Maggie Miller, who shot 50.

In third and fourth place were the Bulldogs and the Sauk Centre Mainstreeters, both with team totals of 192. Again, meet placings were resolved by fifth place scores, where Sally Heitke's 54 edged out Sauk Centre's Lindsay Welle, who turned in a 56. Paynesville was awarded third place and Sauk Centre fourth. Trailing were Cathedral, with a team score of 213; Melrose at 243; and LPGE at 245.

Top five individual scores for the meet were Litchfield's Cassie Fenton, 40 (Medalist); Sauk Centre's Jackie Beste and Nikki Danielson of Cathedral, 42; Frandson of Paynesville, 43; and Kristin Wolford of Albany, who shot 44.
---