Boys track win at Benson
This article submitted by Josh Jones on 5/12/99.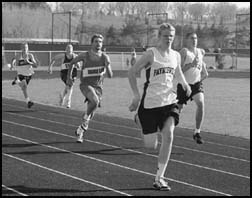 It was a horrible day for outdoor activity of any kind last Friday, as the Paynesville Bulldog boys' track team tried their luck at the Section 6AA True Team track meet.

It was very cold and windy and on top of it all, it was a bit wet, too. This was surely not ideal conditions by any means.

The guys didn't do bad, though. As a team they placed sixth out of thirteen teams. Sartell won the meet for the tenth straight year.

Paynesville's Jeff Voss placed second in both hurdle races. This was awesome, considering in each event there were 26 participants.

Senior Josh Jones placed third in triple jump and sixth in long jump.

Luke Trees also made 5'10" in the high jump which put him in the top ten.

Benson Invitational
On May 4, the Paynesville Bulldog boys' track team traveled to Benson for the invitational track meet.

Paynesville was hoping to do well in this meet and they did, as they destroyed their closest opponents by 92 points.

Jeff Voss took home three first places in the two hurdle races and the pole vault.

Paynesville's distance runners did well as Clayton Lang won both the 1600- meter run and the 3200-meter run. Adam Utsch took second in both of them as well. Travis Flanders also took third in the 3200-meter run.

Steve Flint won the shot put with a throw of 42'6".

Josh Jones won the open 200-meter dash and the open 400-meter dash.
---