Area town team baseball scores
This article submitted on 5/12/99.
County Line League

Norway Lake-Sunburg 10
Paynesville 6

By Aaron Ziemer
Paynesville was defeated by the Norway Lake-Sunburg Lakers 10-6 on Sunday, in Paynesville.

David Hemmesch made his third start for Paynesville. Hemmesch went six and one-third innings giving up eight hits and 10 runs, with two walks and two strike- outs. Many of the runs that Hemmesch gave up were once again unearned.

Dan Starken finished the game going the last two and two-thirds of the game not allowing a run on three hits and three strike-outs.

Starken and Scott Shosted led the team in hitting, both were 2-2.

Paynesville once again had problems hitting the ball. They were unable to get a hit until the fourth inning for the second straight game.

The Lakers got on the board first when they scored four runs in the top of the second, sparked by a two-run home run by James Cortez.

After Paynesville got one back in the bottom of the third, the Lakers added four more in the top of the fifth. This time it was Josh Kittering with a two-run home run.

Paul Gjerde kept the hitting parade going in the top of the seventh for the Lakers when he hit the third two-run home run of the game, for the Lakers.

The Pirates were able to add a couple of late runs, but it was too little too late for Paynesville.

Paynesville now falls to 2-2 and 1-2 in the County Line League. The Pirates have a game Friday night against St. Nicholas at Paynesville, and a game Sunday at Sauk Centre.
| | | | | | | |
| --- | --- | --- | --- | --- | --- | --- |
| NL-S-- | 040 | 040 | 200 | - 10 | 11 | 3 |
| Paynesville-- | 001 | 010 | 112 | - 6 | 7 | 3 |
Regal 19
New London-Spicer 16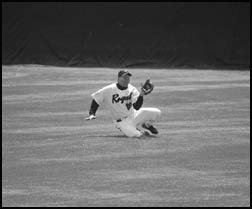 By Michael Pauly
Regal won its third league game of the season over New London-Spicer by the score of 19-16 on Sunday at Spicer.
With the wind blowing out there were eight home runs, three by NL-S and five by Regal. There was a total of 38 hits with 21 going for extra bases, ten being doubles, a triple, and the eight home runs.
Regal started the scoring with four runs in the top of the first inning on a three-run home run by Jeff Deming after Tim Haines and Ron Fuchs each hit safely. Mike Tangen (right) followed with a solo home run.
Regal plated five runs in the second inning after two outs when Mike Beier singled and scored on a home run by Tim Haines. Ron Fuchs followed with a double and went to third on a single by Jeff Deming. Tangen then hit a double scoring Fuchs and Deming. Tangen reached third on a single by Wade Thonvold and scored on a throwing error. NL-S came back with eight runs in the bottom of the third to make the score 9-8. The big hit for NL-S was a three-run home run by Chad Lien.
Regal added two runs in the fourth and six more runs in the fifth. In the fifth inning Randy Beier led off with a double and scored on a single by Mike Beier. With one out Fuchs reached first after being hit by a pitch and Jeff Deming hit a run scoring double. One run scored on a fielder's choice and two more runs were scored on a home run by Thonvold. Brad Lieser followed with a triple and scored on a single by Dave Oehrlein. This made the score 17-8.
NL-S came back with two runs on a two-run home run by Mike Thompson in the bottom of the fifth inning.
In the sixth inning Regal scored one run on a double by Fuchs, and a ground out moved Fuchs to third and he scored on a wild pitch.
In the bottom of the sixth NL-S came up with five runs with the big hit coming from Nate Danielson, a three-run home run. This made the score 18-15 in favor of Regal.
NL-S scored one run in the seventh and Regal plated one run in the ninth inning when Deming hit his second home run of the game, making the final score of 19-16.
Leading hitters for Regal were: Tim Haines, 2-6 with a 2b and a HR and 2 RBI; Ron Fuchs, 3-5 with 2-2b; Jeff Deming, 4-5 with a 2b and 2-HR and 5 RBI; Mike Tangen, 2-5 with a 2b and a HR and 4 RBI; Wade Thonvold, 2-5 with a HR and 2 RBI; Brad Lieser, 3-6 with a 3b and 2 RBI. Every player for Regal had at least one hit.
Wade VonEschen started for Regal and was relieved in the third by Ron Fuchs who got the win. Randy Beier pitched one inning in relief and Mike Beier pitched two scoreless innings and got the save.
Regal will play at Litchfield on Wednesday night, May 12 at 7:30 p.m. On Sunday, May 16, Regal will travel to Sunburg to take on the Norway Lake-Sunburg Lakers in a 1:30 game.
| | | | | | | |
| --- | --- | --- | --- | --- | --- | --- |
| Regal-- | 040 | 450 | 001 | - 19 | 20 | 1 |
| NL-S-- | 008 | 025 | 100 | - 16 | 18 | 2 |
Stearns County League
Richmond 10
Roscoe 4
By Aaron Ziemer
Richmond defeated Roscoe 10-4 on Sunday, in Roscoe.
Chris VanderBeek started for Roscoe going four and one-third innings giving up two earned runs on four hits while walking and striking out three. Russ Schaefer and Greg Heinen threw relief for the Rangers.
Greg Heinen and Lee Schleper each had two hits for the Rangers. Jeff Welle was 1-4 with a double also.
Richmond was able to win the game with the home run. Greg Drontle, Jeron Lieser, and Chad Ehrlichman all had homers for Richmond.
Roscoe has a busy week next week with three games. Tonight (Wednesday) they play St. Cloud Orthopedic at Dick Putz Field in St. Cloud. On Friday night Roscoe will play Pearl Lake at Roscoe, and on Sunday they will play at Farming at 1:30.
| | | | | | | |
| --- | --- | --- | --- | --- | --- | --- |
| Richmond-- | 100 | 211 | 230 | - 10 | 12 | 2 |
| Roscoe-- | 101 | 000 | 020 | - 4 | 8 | 3 |
Exhibitions
Regal 9
Roscoe 5
The Regal Eagles beat the Roscoe Rangers 9-5 in an exhibition game in Regal on Saturday.
Ron Fuchs hit a two-run homer for Regal and Wade Thonvold added a solo shot. Russ Schaefer hit a two-run home run for Roscoe.
On the hill, Jeremy Glenz started for Regal and earned the victory. Fuchs closed out the game for Regal.
For Roscoe, Tony Orbeck started, and Rick Mackedanz and Jeff Welle pitched in relief.
Brad Lieser caught for Regal, and Todd Leyendecker for Roscoe.
---