St. Cloud Cathedral edged the Bulldogs softball team 6-5 on Thursday, moving into a second-place tie with Paynesville in the West Central Conference North.

The Dogs, who beat Cathedral 9-8 in April, and the Crusaders are now both 4-2 in the WCC North. Both are a half game behind conference-leading LPGE, which is 4-1 so far.

The Crusaders managed a split in the season series - with the visiting team winning each game - by scoring four runs in the third inning, building a 6-1 lead, and withstanding a rally to win 6-5.

Trailing 6-1, the Dogs got a leadoff triple by senior Kayla Mackedanz in the sixth inning. Senior Amber Chevalier walked, and junior Allyson Klenke delivered an RBI single. Senior Kim Hess singled to load the bases, and another run scored for the Dogs on a force out.

Junior Amanda Skalicky then delivered a two-run double and advanced to third on a play at the plate. The Dogs missed an opportunity to score on a fly out, and then Skalicky appeared to have scored to tie the game on an infield hit by sophomore Chelsey Kalkbrenner. But Kalkbrenner's dribbler off the plate was ruled foul even though the Cathedral pitcher grabbed it in fair territory.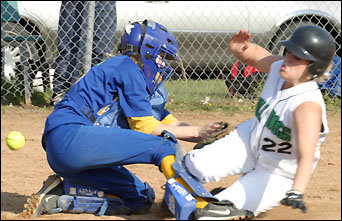 The Dogs squandered other opportunities to score. They drew four walks in the first inning but did not score due to a caught stealing and left the bases loaded. They left the bases loaded again in the second inning, though Klenke did have an RBI single in that inning to give the Dogs a 1-0 lead. The Dogs also had a runner thrown out at home in the fourth inning.
Senior Ashley Spanier scored in the sixth inning against Cathedral last week when the ball got past the Crusader catcher.
In all, the Dogs stranded ten baserunners, including seven in scoring position.
Cathedral took a 4-1 lead by scoring four runs in the top of the third on two singles, a Paynesville error, and a two-run triple. They added an unearned run (three errors and a walk) in the fifth to make it 5-1 and got an RBI double in the top of the sixth to make it 6-1.
This week should decide the conference race. The Dogs played at Melrose on Tuesday, trying to avenge one of their conference losses.
The Dogs will host conference-leading LPGE in a doubleheader on Thursday. Because the team will make up a rainout from Tuesday, April 26, these games are now scheduled to start at 4 p.m. instead of 5 p.m.
The Dogs will also play at ACGC on Friday in a nonconference game, and then they will play their last conference game of the year next week at Sauk Centre on Tuesday, May 17.
| | | | | | | |
| --- | --- | --- | --- | --- | --- | --- |
| Cathedral-- | 004 | 101 | 0 | - 6 | 7 | 0 |
| Paynesville-- | 010 | 004 | 0 | - 5 | 7 | 5 |
Cathedral - Batting: Anne Schleper 2-3 R-2; Tricia Lembeck 2-4 3B RBI-2 R; Pitching: (ip-h-r-er-bb-k) Lembeck (W) (7-7-5-5-8-1).
Paynesville - Batting: Kayla Mackedanz 2-4 3B R-2; Allyson Klenke 2-3 RBI-2; Kim Hess 2-3 R; Amanda Skalicky 1-2 2B RBI-2; Pitching: (ip-h-r-er-bb-k) Amber Chevalier (L) (7-7-6-4-1-3).
Paynesville 12, Albany 9
The Bulldogs scored six runs in the second inning, built leads of 9-3 and 12-5, and completed a season sweeep of Albany with a 12-9 victory on Tuesday, May 3, at PAHS.
Senior Ashley Spanier hit a three-run single to give the Dogs the lead in the second inning (with senior Kim Hess scoring all the way from first base). Senior Val Callenius added an RBI single, and senior Ashley Karger added a two-run single in the inning, as the Dogs took a 7-3 lead after trailing 3-1 early. Hess hit a two-run homer in the third to increase that lead to 9-3.
After Albany score two runs to make it 9-5, the Dogs added three runs in the bottom of the fourth, with sophomore Chelsey Kalkbrenner hitting a two-run single to highlight that rally.
Albany scored four runs in its last two at bats to make the final 12-9.
The Dogs used a 14-hit attack, scoring 12 runs, to overcome their defense, as they committed six errors. For the week, the Dogs made 11 errors, allowing six unearned runs, while their two conference opponents did not make any errors, forcing the Dogs to earn all their runs.
The Dogs are now 9-4 this spring.
| | | | | | | |
| --- | --- | --- | --- | --- | --- | --- |
| Albany-- | 210 | 201 | 3 | - 9 | 5 | 0 |
| Paynesville-- | 162 | 300 | x | - 12 | 14 | 6 |
Albany - Batting: Ashley Beier 3-5 R RBI; Pitching: (ip-h-r-er-bb-k) Beier (6-14-12-12-5-3).
Paynesville - Batting: Kim Hess 3-4 HR R-3 RBI-2; Amanda Skalicky 3-4 2B 3B R-2; Val Callenius 2-3 R-2 RBI; Kayla Mackedanz 2-3 R-2 SB-3; Chelsey Kalkbrenner 2-4 RBI-2 R; Ashley Spanier 1-3 RBI-4; Ashley Karger 1-4 RBI-2; Pitching: (ip-h-r-er-bb-k) Leah Spanier (W) (7-5-9-5-3-4).
---
Contact the author at editor@paynesvillepress.com • Return to Sports
Home | Marketplace | Community
---