The Bulldogs boys' track team placed 12th in a 12-team meet at New London-Spicer on Thursday but recorded a number of personal bests at the meet.

"The boys ran very well on Thursday, even though the team score doesn't show it," said coach Todd Spanier. "If they would have scored nine places, we would have done much better. It seemed like every event, our guys were that close. There were many personal bests recorded at the meet, and the guys are really having a good time and competing well."

The Dogs had only five placewinners, scoring 11 team points.

Junior Aaron Bachman led the Dogs with a fifth-place finish in the pole vault, clearing 11'. A vault of 11' 6" won the event, with second through eighth all clearing 11', with places being decided by misses, according to Spanier.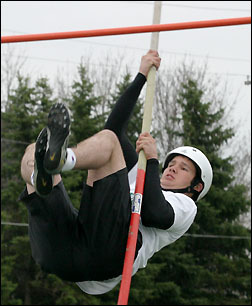 Sophomore Travis Flannigan placed seventh in the 110-meter hurdles for the Dogs, sophomore Dugan Flanders ran seventh in the 3,200-meter run, and the Dogs' 400-meter - sophomore Curt Forster, senior Eric Hansen, sophomore Alex Jewell, and sophomore Bryce Fischbach - placed seventh.
Junior Aaron Bachman led the PAHS boys' track team last week by placing fifth in the pole vault at the Little Crow Invite at NL-S.
Flannigan had a personal best in the hurdles and made the finals of the triple jump, finishing ninth.
Flanders ran a great race, said Spanier, and was determined to rebound from a sub-par race at the Dogs' home meet the week before. "It is really good to see a guy who trains so hard do well. He deserves it," added Spanier.
The 400-meter relay team has been working hard on handoffs with assistant coach Kyle Nehowig, said Spanier, and it really looks to be paying off. They finished only 27 hundredths from third place despite running in the second heat, not head-to-head against the top teams.
Sophomore Cole Kampsen was eighth in the shot put, edging teammate Josh Binsfeld by a half inch. Spanier said Kampsen, in his first year of track, has benefitted from his competition with Binsfeld, a senior. "They really push and compete against each other, which helps both of them," said Spanier, who had predicted that Kampsen would have a break-through meet soon.
Binsfeld threw the shot 39' 9", a half inch behind Kampsen. It was the first meet this season where Binsfeld did not place in the shot.
The Dogs also had personal bests by sophomore Alex Svejkovsky in the 200-meter dash, by eighth grader Sam Rittenhouse in the 100-meter dash,and seventh grader Kohl Nehowig in the triple jump.
Spanier also praised Jewell for his versatility, noting that he ran legs in the 400-meter and 800-meter relays and in the 400-meter dash. This season, Jewell has competed in eight events for the Dogs.
This week, the Dogs competed at the true-team section meet at ACGC on Tuesday. Next week, team members will vie for All Conference honors at the WCC North meet at Melrose on Thursday, May 19.
Team Scores
1. Annandale 157
2. NL-S 127
3. Benson/KMS 73
4. Morris 53.5
5. Melrose 53
6. Minnewaska 52.5
7. ACGC 46
8. BOLD/BLH 39
9. Renville County West 36
10. Yellow Medicine East 32
11. BBE 21
12. Paynesville 11
Individual Results
110-meter hurdles: Travis Flannigan, seventh, 17.62;
3,200-meter run: Dugan Flanders, seventh, 11:19;
400-meter relay: Curt Forster, Eric Hansen, Alex Jewell, and Bryce Fischbach, seventh, 48.07;
Shot put: Cole Kampsen, eighth, 39' 9 1/2";
Pole vault: Aaron Bachman, fifth, 11'.
---
Contact the author at editor@paynesvillepress.com • Return to Sports
Home | Marketplace | Community
---