The Bulldogs boys' golf team was narrowly edged by Cathedral, LPGE, and Sauk Centre and finished fifth at a conference meet at Melrose on Tuesday, May 3.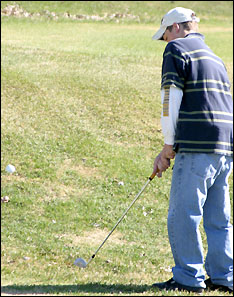 Albany - with three golfers in the 30s and all seven shooting 44s or less - easily won the meet with a team total of 152. Cathedral (162) beat LPGE (162) on a tie-breaker for second, and Sauk Centre (163) was one stroke behind both these teams in fourth.
Eighth grader Zach Fuchs shot a round of 43 at Melrose last week.
The Dogs (165) finished fifth, two strokes behind Cathedral and LPGE and one behind Sauk Centre.
Senior Mitchell Mackedanz led the Dogs with a second-place individual finish with a round of 37. He trailed only Joe Gretsch, Albany's #7 golfer, who shot 34.
Nine players shot rounds in the 30s at the Melrose meet, including three for Albany, two for LPGE and Sauk Centre, one for Cathedral, and Mackedanz for Paynesville.
Senior Cody Flanders shot 42, and junior Justin Bork and eighth grader Zach Fuchs shot 43s, completing the Dogs' team score of 165.
This week, the Dogs competed in a conference meet at Long Prairie on Tuesday. They will golf in a nonconference tournament at Sauk Centre on Saturday morning. Next week, the Dogs will play in their last conference meet at Albany on Monday, May 16.
Team Scores
1. Albany 152
2. Cathedral 162
3. LPGE 162
4. Sauk Centre 163
5. Paynesville 165
6. Melrose 171
Individual Results
Paynesville - Mitchell Mackedanz (2) 37; Cody Flanders 42; Justin Bork 43; Zach Fuchs 43; Ross Barten 46; Jeremy Schmidt 50; Matt Fuchs 51.
---
Contact the author at editor@paynesvillepress.com • Return to Sports
Home | Marketplace | Community
---