Evans, Lieser ace holes at Koronis Hills
This article submitted by Michael Jacobson on 5/10/00.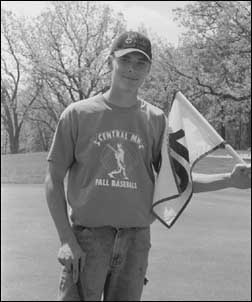 Within 48 hours between April 29 and May 1, two holes-in-one were recorded on the back nine at Koronis Hills Golf Club.

Local golfers Shawn Evans and Jon Lieser (pictured at left) each got their first hole-in-one.

Evans was nearing the completion of 36 holes of golf on Saturday, April 29, when he teed off on the par-3, 148-yard 17th hole at about 8 p.m. Using a six iron, Evans could see his shot was on line from the elevated tee. "I knew it was going to be close," he said, "because I saw it hit below the pin."

Evans, who also birdied #11 on his round, shot 41 on the back. Witnesses to his hole-in-one were RaNae Martinson and Rick Grabow.

Lieser squeezed in a round of golf Monday after school before heading to baseball practice later in the evening. Deciding to play the back because of the wind, Lieser hit a four-iron into the wind on the 10th hole. He saw it bounce on the front and, when it wasn't on the green, thought it must have bounced off the back.

After searching unsuccessfully for a few minutes, Lieser's playing partner, Shaun Fleischhacker looked in the cup, which was cut in the back left of the green, and found Lieser's ball in it. Lieser thought Fleischhacker was kidding him at first.

When Lieser actually looked himself, and saw his hole-in-one, he said his first thought was relief: he was glad he didn't have to putt on the 10th green!

Lieser, who works for the grounds crew at the course, actually cut the cup location on the 10th hole that yielded his hole-in-one.

Lieser, who shot a 41 on his round as well, said, "I think I was so excited I didn't care too much about the rest of the round."
---