Girls take fourth at home meet
This article submitted by Maria Janotta on 5/10/00.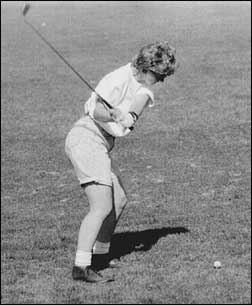 The Bulldogs traveled to Long Prairie on Tuesday, May 2, where they played in beautiful weather and 75 degree temperatures.

The girls took fifth place with a total of 218, only five strokes behind Cathedral. Sauk Centre won the meet with a total of 183.

Erin O'Fallon shot a 55 at Koronis Hills on Friday to help the girls finish fourth in the WCCN meet, their highest finish of the season.

Coming in with the best score for the Bulldogs was eighth grader Amanda Glenz with a total of 52. Sally Heitke shot a 54, while Heather Fuchs and Maria Janotta shot 56.

at LPGE, Tuesday, May 2
Team scores- Sauk Centre 183; Albany 186; Litchfield 188; Cathedral 213; Paynesville 218; LPGE 233.
Paynesville scores - Amanda Glenz 52; Sally Heitke 54; Maria Janotta 56; Heather Fuchs 56; Erin O'Fallon 58; Beth Holt 59; Katie Wright 60; TOTAL: 218.

Paynesville Meet On Friday, the girls hosted a conference meet at Koronis Hills. The girls took fourth place for the first time this season, finally beating Cathedral. Albany was first, with Sauk Centre second, and Litchfield third.

For Paynesville Maria Janotta shot a 50, Sally Heitke a 51, Katie Wright a 53, and Erin O'Fallon a 55. Beth Holt also played for the Bulldogs.

at Paynesville, Friday, May 5
Team scores- Albany 174; Sauk Centre 178; Litchfield 191; Paynesville 209; Cathedral 221; LPGE 237; Melrose 240;
Paynesville scores - Maria Janotta 50; Sally Heitke 51; Katie Wright 53; Erin O'Fallon 55; TOTAL: 209.
---