Softball team suffers loss to perfect game
This article submitted by Michael Jacobson on 5/5/99.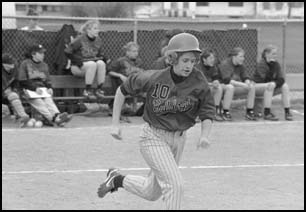 The softball team nearly won its first game of the season last week, before being beaten soundly by two conference powers later in the week.

On Friday, the Bulldogs were shut out 13-0 when Sauk Centre's Shari Vogt pitched a perfect game against them by not allowing a runner to reach base in five innings. "She's probably the best pitcher (in the conference)," said Paynesville head coach Murry Rafferty.

Vogt struck out six batters without yielding a hit or a walk, and the Sauk Centre defense was flawless as no Bulldog reached base safely.

Sauk Centre, meanwhile, scored six runs in the second inning on five hits and an error. In the third, Paynesville made two errors to start the inning and that allowed six unearned runs to eventually score in the inning.

Katy Stepan was three for three for Sauk Centre, and Melissa Schmeising was two for three. Both scored two runs. Jesse Hinnenkamp had four RBI for Sauk Centre.
| | | | | | | |
| --- | --- | --- | --- | --- | --- | --- |
| Paynesville-- | 000 | 00 | | - 0 | 0 | 4 |
| Sauk Centre-- | 066 | 1x | | - 13 | 7 | 0 |
Litchfield 13
Paynesville 1
The Bulldogs lost 13-1 to a strong Litchfield Dragon team on Tuesday, April 27.
The Dragons jumped to a 4-0 lead in the first inning. All the runs were unearned, aided by Bulldog errors.
"The routine things that have to get done we're not getting done," said Rafferty. "That's the problem."
The Dragons had an 8-0 lead going into the bottom of the fourth, when they changed pitchers. Dragons starter Carin Rambow, who has pitched a couple no-hitters this spring, was relieved after pitching three scoreless innings and yielding just one hit.
Replacing her on the hill was Lindsey Mathwig, who struggled with her control early. The Bulldogs loaded the bases with 12 quick balls. Kelsey Moser, Susie Pelzer, and Tracy Hoffman led off with walks, and then, after two outs, Trish Hemmesch drew another walk to score Moser. Hemmesch was credited with a run batted in.
Actually, Mathwig proved just as difficult for Paynesville to hit. She allowed just one run and one hit over four innings and earned the victory.
For Litchfield, Tasha Sutter had a triple and a home run and scored four runs. Kim Traen had two hits, two RBIs, and stole five bases. Mathwig was three for three, stole three bases, and had two RBI.
Kelly Loesch and Kelsey Moser had the two hits for Paynesville.
| | | | | | | |
| --- | --- | --- | --- | --- | --- | --- |
| Litchfield-- | 402 | 211 | 3 | - 13 | 10 | 1 |
| Paynesville-- | 000 | 100 | 0 | - 1 | 2 | 4 |
Albany 11
Paynesville 10
The Bulldogs nearly rallied to their first victory of the year in a conference game at Albany on Monday, April 26.
Trailing 11-3, the Bulldogs scored seven runs in the top of the seventh, getting several hits and being helped by several Albany errors. They had two runners on when the final out was made.
The Bulldogs scored a season-high 10 runs, and their eight hits were one short of their season high. Mellody Veldkamp, Susie Pelzer, and Kelsey Moser led the Bulldogs with two hits apiece. Jessica Louis and Kelly Loesch each had one.
Veldkamp and Carrie Hemmesch scored two runs apiece for Paynesville. Batting in runs for Paynesville were Moser, Louis, Hemmesch, and Veldkamp.
The Bulldogs started strongly, shutting out the Huskies for two innings and scoring two runs in the top of the third to take a 2-0 lead.
Albany responded with rallies in the third, fourth, fifth, and sixth innings. Scoring two to three runs per inning, the Huskies built an 11-3 lead.
The Huskies also helped the Bulldogs by committing eight errors. The Bulldogs committed five.
Kelsey Rushmeyer, LeeAnn Ertl, Kristy Suchy, Kristy Lamser, and Steph Burg each had two hits for Albany.
| | | | | | | |
| --- | --- | --- | --- | --- | --- | --- |
| Paynesville-- | 002 | 010 | 7 | - 10 | 8 | 5 |
| Albany-- | 003 | 323 | x | - 11 | 13 | 8 |
---