Girls track finishes second at Minnewaska
This article submitted by Courtney Karsch on 5/5/99.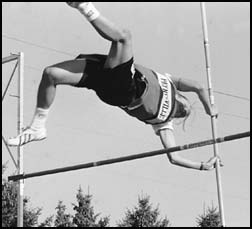 As the season progresses, the Paynesville girl's track team is still doing well and reaching personal goals and still breaking records. They had two meets last week and did very well at both of them.

On Tuesday, April 27, the girls went to Minnewaska for an eight-team meet.

To start off the meet, the 3,200-meter relay had an outstanding performance and got a first place with a time of 10:47. They also broke the old school record of 10:19. Great job, girls! The members of the team are, Carin Frenchick, Leanne Kolb, Danielle Lieser, and Amanda Mayer.

Amber Michaelis is having another great year and is on a roll. She ran a 17.4 in the 100-meter hurdles to earn a first place, a 50.5 in the 300-meter hurdles also earning her a first place, and in the field events, a second place in the high jump, with her best jump ever of 5' 2" and a third in long jump.

Going to the long distance, Jenny Hess also broke another record in the 1600-meter run with a time of 5:13.8. The old Minnewaska record was 5:19. She also ran her personal best this meet. When Hess ran her 3200-meter run, she also broke the meet record and set her personal best with a time of 11:39.

In the shot put, Heidi Jansen threw her personal best with a throw of 31'11" to receive second place.

The last race of the meet, the 1600-meter relay, broke the old record of 4:21.89. They ran it in 4:21.63. Team members are: Frenchick, Lieser, Hess, and Tiff Rausch.

So, the girls did well and are still improving. "The team had a very strong race, but came up short against Minnewaska. We competed hard and really supported each other, which makes this team "special" to coach," said Dave Randgaard.

Koronis Invite
On Friday, April 30, the girls had a "fun" home meet. It consisted of only four teams. The girls dominated by almost 200 points! This meet was basically a meet where people were reaching their personal bests.

Carla Hemmesch ran her best in the 100-meter dash with a time of 14.19. She also ran her best in the 200-meter dash with a time of 29.7. She is a hard worker and is still improving.

The 800-meter relay team of Karsch, Mandi McCool, Benson, and Rausch, ran in 1:54.72, which was just a few seconds away from the school record.

In the 1600-meter run, Mayer ran a 5:56, her best as well.

Another relay, the 400-meter, ran in 55.6. The members are Karsch, Jansen, C. Hemmesch, J. Hemmesch.

In the 400-meter dash, Pyper Garmon ran her best of 1:5.28 and so did Amy Mueller with a time of 1:06.53.

In the field event of shot put, J. Hemmesch threw her best of 89'2.5", and Brett Bork also did a great job with her throw of 69' 5.5".

McCool jumped her best in the high jump with a jump of 4' 8".

This was a real fun meet and everyone on the team had a chance to try and participate in the events. "We really changed the line up for this meet and the girls times started to get better. Our field events also are improving," said Randgaard.

The girls had a meet yesterday, May 4, in Benson and have a big meet on Friday, The True Team in Sartell.
---