Boys track team wins home meet
This article submitted by Joshua Jones 5/5/99.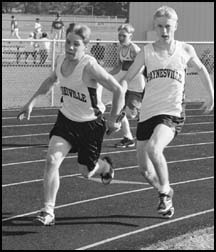 It was almost too warm for a track meet on Friday, April 30. The Paynesville Bulldog boys' track team crushed their opponents by over 70 points.

The team won all but five events at Friday's meet. This was very good considering it was the boys third meet of the week. Three meets in a week take a toll on an athlete's body no matter how in shape you are.

Medals were awarded to the top three places in individual events and to the top two in relays.

Little Crow meet
On April 29, the Paynesville Bulldog boys' track team traveled to New London-Spicer for the Little Crow Invitational.

Paynesville did well in the 12-team meet.

Paynesville placed fourth, only a half point behind Minnewaska.

Junior, Jeff Voss, won both hurdle races with ease.

Junior Luke Trees jumped out of his mind with an amazing vertical leap of 6' 3".

Another winner was Josh Jones in the triple jump. Clayton Lang also won the 3200-meter run with a time of 10:34.

Paynesville's 1600-meter relay team ran an outstanding time of 3:33.7. Freshman Nic Glenz did a great job taking the spot of injured Eric Rausch.

Minnewaska Invitational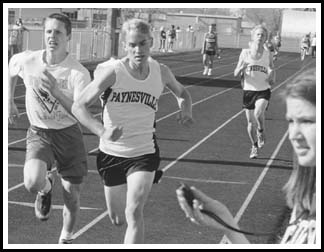 It was a perfect day for a track meet on April 27 as the Paynesville Bulldog boys' track team traveled to Minnewaska Area.
There were a lot of really fast times and a lot of awesome jumping going on at this meet.
There were eight teams at this meet and the Paynesville boys' team won the meet by three points. This was their first big win in a long time.
Senior Josh Jones had the meet of his life. He placed second in the open 200- and 400-meter dashes. He also jumped well in the long jump with a leap of 19' 9". But to put the icing on the cake, he hopped, skipped, and jumped his way to 42' 0" in the triple jump breaking his own school record of 41' 3".
Junior Jeff Voss also did very well winning both hurdle races and placing fourth in the pole vault.
Junior Luke Trees also won the high jump for Paynesville with a jump of 6'0".
---