The Bulldogs girls' track team defeated conference-rival St. Cloud Cathedral and won their eight-team home meet on Thursday.

The Dogs had 19 placewinners, including 13 in the top three and four first-place winners.

Sophomore Kacy Nehowig won both the 800-meter and 1,600-meter runs in the cold, windy weather at the PAHS track on Thursday.

The Dogs also had two winning relays: senior Kendra Johnson, eighth graders Bri Jaeger and Kally Felling, and junior Tara Schmidt in the 800-meter relay; and ninth grader Melanie Koerner, eighth grader Erin Guzy, ninth grader Kaitlyn Frenchick, and ninth grader Leah Felling in the 3,200-meter relay.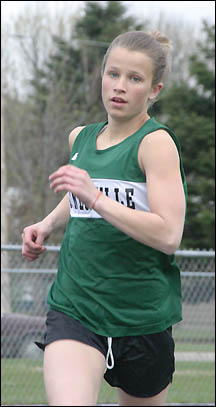 Runner-up finishes for the Dogs were recorded by Johnson in the 300-meter hurdles; Schmidt in the 100-meter dash (with a personal-best time); sophomore Tanis Beireis in the pole vault) and Frenchick in both the 800-meter run (where she led for much of the race before teammate Nehowig passed her in the home stretch) and the triple jump.
The Dogs had three placewinners in four events. In the 800-meter run, with Nehowig and Frenchick finishing 1-2 and with Koerner finishing fifth, the Dogs scored 22 team points. In the pole vault, with Beireis second, eighth grader Anna Kotten fourth, and sophomore Tina Liestman tying for fifth, the Dogs scored 16.5 team points.
Sophomore Kacy Nehowig won the 800-meter run and the 1,600-meter run at the home track meet on Thursday.
Nehowig and Beireis finished first and third in the 1,600-meter run as the Dogs scored 16 team points in that event.
In the 300-meter hurdles, Johnson placed second, Kotten sixth, and sophomore Kirsten Miller eighth to score 12 team points, and in the 200-meter dash, Schmidt placed third, Kelly Felling sixth, and Jaeger eighth to score 11 team points.
Jaeger and Felling also finished second and fourth in the 400-meter dash as the Dogs scored 13 team points in that event.
"We came into this meet really excited to see Cathedral for the first time this season," said coach Dave Randgaard. "They are missing a couple of girls from their lineup, but our Paynesville girls' team really performed at a high level and won this meet by 26 points."
The girls, who are rated #7 in the state in the Class A true-team standings, have not lost to a Class A school this year, noted Randgaard.
The Dogs' meet at LPGE, scheduled for Tuesday, April 26, was cancelled due to the cold weather.
This week, the Dogs will compete at NL-S on Thursday. Next week, they will vie for a state berth at the true-team section meet on Tuesday, May 10, at ACGC High School.
Team Scores
1. Paynesville 162.5
2. Cathedral 136
3. Eden Valley-Watkins/Kimball 104.5
4. LPGE 61
5. ACGC 59
6. New London-Spicer 57.5
7. Melrose 46.5
8. Belgrade-Brooten-Elrosa 45
Individual Results
100-meter hurdles: Kendra Johnson, third, 17.3; Anna Kotten, fifth, 18.13;
300-meter hurdles: Johnson, second, 49.5; Kotten, sixth, 55.8; Kirsten Miller, eighth, 56.7;
100-meter dash: Tara Schmidt, second, 12.7 (personal best);
200-meter dash: Schmidt, third, 27.8; Kally Felling, sixth, 28.6; Bri Jaeger, 28.9, seventh;
400-meter dash: Jaeger, second, 1:03.7; Felling, fourth, 1:05.1;
800-meter run: Kacy Nehowig, first, 2:34.5; Kaitlyn Frenchick, second, 2:36; Melanie Koerner, fifth, 2:41.9;
1,600-meter run: Nehowig, first, 5:46.9; Tanis Beireis, third, 5:58 (season best);
3,200-meter run: Beireis, sixth, 13:48.8;
400-meter relay: Kacie Wander, Randi Schaefer, Leah Felling, and Miller, fourth, 56.3 (season best);
800-meter relay: Johnson, Jaeger, Kally Felling, and Schmidt, first, 1:51;
1,600-meter relay: Koerner, Leah Felling, Nehowig, and Frenchick, fourth, 4:30;
3,200-meter relay: Koerner, Erin Guzy, Frenchick, and Leah Felling, first, 10:45;
Discus: Natalie Leadem, fifth, 95' 4";
Shot put: Leadem, seventh, 30' 11";
High jump: Johnson, fifth, 4' 8";
Long jump: Schmidt, sixth, 13' 11";
Triple jump: Frenchick, second, 32' 5";
Pole vault: Beireis, second, 8'; Kotten, fourth, 6' 6"; Tina Liestman, fifth, 6'.
---
Contact the author at editor@paynesvillepress.com • Return to Sports
Home | Marketplace | Community
---