The Paynesville boys' track team hosted a home meet on Thursday in cold, windy conditions at the PAHS track, placing seventh.

New London-Spicer (169.5 points) edged St. Cloud Cathedral (153 points) for the team title.

The Dogs had 12 placewinners, including five top-five finishers.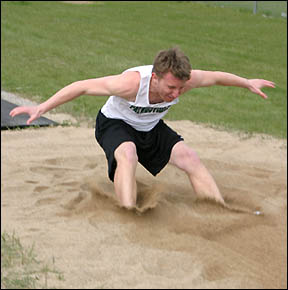 Junior Aaron Bachman had the highest individual placing for the Dogs, finishing second in the pole vault. He also ran a leg on the 400-meter relay, which placed fourth. Other members of that relay team were sophomore Curt Forster, senior Eric Hansen, and sophomore Bryce Fischbach.
Senior Josh Binsfeld finished fourth in the shot put and eighth in the discus for the Dogs.
Senior Eric Hansen lands in the pit after a long jump attempt. Hansen helped the 400-meter relay place fourth and the 1,600-meter relay place eighth at the meet at PAHS on Thursday.
Forster, in addition to running legs on two relays, placed fifth in the 300-meter hurdles. Forster finished just three-tenths of a second out of third place, noted coach Todd Spanier.
The Dogs' other top-five finish was fourth in the 3,200-meter relay, as sophomore Dugan Flanders and eighth graders Jamison Wall and Nathan Friederichs, and Kody Nehowig placed fourth.
Sophomore Travis Flannigan placed in three events for the Dogs: placing seventh in the 110-meter hurdles, eighth in the high jump, and eighth in the triple jump.
Spanier noted that ninth grader Alex Svejkovsky probably had the best meet for the Bulldogs, showing his versatility by running a leg in the 800-meter relay, running the 200-meter dash and 400-meter dash, and throwing the shot put. He scratched from the discus to help the relay, Spanier said.
Spanier also praised sophomore Cole Kampsen for his improvement in the shot and discus and said he expects Kampsen to break into the top eight at meets soon.
And Spanier praised the seventh and eighth graders who have moved up to varsity to help with relays and depth for the Dogs.
"It is really encouraging to see young boys competing and doing well at a varsity level," said Spanier. "Things really look good for the future."
The Dogs' meet at LPGE, scheduled for Tuesday, April 26, was cancelled due to the cold weather.
This week, the Dogs will compete at NL-S on Thursday. Next week, they will compete at the true-team section meet on Tuesday, May 10, at ACGC High School in Grove City.
Team Scores
1. NL-S 169.5
2. Cathedral 153
3. Melrose 124.5
4. ACGC 88
5. LPGE 70.5
6. Eden Valley-Watkins/Kimball 48
7. Paynesville 34
8. BBE 25.5
Individual Results
110-meter hurdles: Travis Flannigan, seventh, 18.1;
300-meter hurdles: Curt Forster, fifth, 45.4;
1,600-meter run: Matt Mehr, seventh, 5:07;
400-meter relay: Forster, Eric Hansen, Aaron Bachman, Bryce Fischbach, fourth, 48.3;
800-meter relay: Kohl Nehowig, Fischbach, Alex Svejkovsky, Travis Jimenez, seventh, 1:47.3;
1,600-meter relay: Hansen, Jamison Wall, Nehowig, and Forster, eighth, 4:12;
3,200-meter relay: Kody Nehowig, Wall, Nathan Friederichs, and Dugan Flanders, fourth, 10:03;
Discus: Josh Binsfeld, eighth, 102' 8";
Shot put: Binsfeld, fourth, 39' 11";
High jump: Flannigan, eighth, 5' 3";
Triple jump: Flannigan, eighth, 33' 8";
Pole vault: Bachman, second, 11'.
---
Contact the author at editor@paynesvillepress.com • Return to Sports
Home | Marketplace | Community
---