Golfers edged in dual meet
This article submitted by Michael Jacobson on 5/03/00.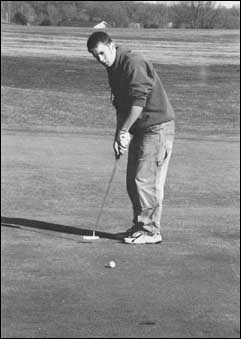 The Bulldogs were edged by six strokes by Kimball/Eden Valley-Watkins in a dual meet at Kimball on Thursday.

Kimball/EV-W was led by medalist Adam Martin, who shot a 41. Sophomore Nathan Glenz of Paynesville finished second, one stroke back at 42.

Adam Rafferty(pictured) notched 46 for Paynesville, Ryan Wall had 47, and Corey Schmitt and Eric Miller had 50s for a four-man total of 185. Kimball/EV-W had 179.

at Kimball, Thursday, April 27
Team scores – Kimball/Eden Valley-Watkins 179; Paynesville 185.
Paynesville scores – Nathan Glenz 42; Adam Rafferty 46; Ryan Wall 47; Corey Schmitt 50; Eric Miller 50; Mark Brossard 52; Eric Gerding 55; David Jones 59; Travis Atkinson 59; TOTAL: 185.

Albany Meet
The Bulldogs just missed escaping seventh place in a West Central Conference North meet at Albany on Monday, April 24.

Paynesville had a four-man total of 180, one stroke behind sixth-place Sauk Centre's 179. Senior Ryan Wall led the Bulldogs with a 39. He was one behind the medalists of the meet, Jason Luethmers of Albany and Jeremy Zylla of Melrose who shot 38.

Coach Todd Knudsvig said Wall, who qualified for sections individually last year as a junior, would be one of the top golfers in the conference if he could score consistently.

Cathedral, which had six golfers shoot 42 or better, won the meet on a tie-breaker with Melrose and Albany.

Adam Rafferty shot 44 for Paynesville, Nathan Glenz shot 46, and Eric Gerding shot 51 to account for the team score. Corey Schmitt had a 52, and Pat Spooner 55.

at Albany, Monday, April 24
Team scores – Cathedral 162; Melrose 162; Albany 162; LPGE 164; Litchfield 167; Sauk Centre 179; Paynesville 180.
Paynesville scores – Ryan Wall 39; Adam Rafferty 44; Nathan Glenz 46; Eric Gerding 51; Corey Schmitt 52; Pat Spooner 55; TOTAL: 180.
---