Five PAHS seniors to run collegiately
This article submitted by Michael Jacobson on 5/02/01.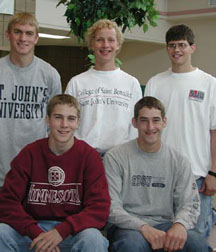 They've run together since junior high, when their coach first told them they would eventually win a state cross country title. They've logged hundreds of miles together on golf courses, gravel roads, and oval tracks. They've become close friends along the way, and in June they will graduate together from Paynesville Area High School.

Though they will be going separate ways to college, each of the five will be continuing their mutual passion for running. Seniors Adam Utsch, Eric Korman, Clayton Lang, Ryan Flanders, and Travis Flanders have all decided to continue to run competitively next year in college.

Five senior members of the Bulldogs' Class A state championship cross country team plan to run in college next year. In front are Eric Korman (Minnesota-Morris) and Clayton Lang (SDSU); in back are Travis Flanders, Ryan Flanders, and Adam Utsch (all at St. John's.)

Lang, who finished sixth individually at the state cross country meet in November to lead the Bulldogs, signed a national letter of intent on Thursday to attend South Dakota State University in Brookings. He starts with a $2,000 scholarship, which could grow depending on how he does. He plans to run cross country and indoor and outdoor track.

Both Flanders and Utsch will do the same at St. John's University in Collegeville. Utsch also earned All State honors in cross country last fall by placing 19th.

Korman will run track at the University of Minnesota-Morris. He would run cross country, too, but his school only offers a women's team, due to gender equity in sports.

Camille Flanders, Travis' sister, runs both cross country and track at Morris, the only other active Paynesville runner come next fall. Nick Haglund finished his cross country career at the University of Minnesota-Duluth this fall as a two-time team MVP, according to Bulldogs cross country and track coach Darrel Carstens.

Carstens lets loose with a stream of praise when asked about these five senior runners. "Very close," he says. "Good friends. Very good kids. It's been just a blast having them. Never complain about workouts. Always here. Dependable. Reliable. Coach's dream." All five are honor roll students, and three are members of the National Honor Society.

"I think their camaraderie probably led us to the state title," added Carstens. "Other teams probably had more stud athletes, but we had a close-knit, hard-working attitude." The runners agree that their closeness helped them succeed. "I think that was a big part of it," said Korman. "It made it easy to work hard. It's easier to stay dedicated when you've got five who work hard."

Having his athletes continue to run is one of Carstens' goals for cross country. This group also trained with Jen Hess, who won an individual title last fall in cross country and is a favorite this spring in track. "They've also been great influences on the younger kids," said Carstens, "because the kids can see the dedication they put in it."

For them, they hope to earn one more trip to state, though the odds are longer than they would like. With a bevy of quality long-distance runners, the 3,200-meter relay would seem like a perfect fit, but the trouble is Atwater-Cosmos-Grove City has a stud team, too, who the Bulldogs would need to beat to get to state. Travis Flanders was an alternate last year on the Bulldogs 1,600-meter relay at state.

Lang earned an individual trip to state last year in the 1,600-meter run, but was unable to compete due to injury. His goal this year is to qualify in both the 1,600-meter run and the 3,200-meter run (the one-mile and the two-mile runs).

Lang - whose sister, Tina, and brother-in-law Joel Fenske, earned All American honors running at the University of South Dakota - faces the sternest test in trying to run collegiately on the Division II level. "It'll be tough," he said.

With enough hard work, he thinks he'll be able to compete. "At Division I, you have to be an elite runner. At Division II, if you have the desire, you can do it," he said.

The others hope to run, stay in shape, and enjoy the competition. "Just within the last year, I thought maybe I could compete," said Korman. "Might as well try."

"I had no plans on running in college until I talked with the coach," said Ryan Flanders. "(At St. John's) they have a big team, so they have space for all the runners, no matter what ability." Team members may live on the same floor and bond.

Maybe even as well as these five did in high school.
---