Girls dominate opponents for fifth win
This article submitted by Mandy Mayer on 5/02/01.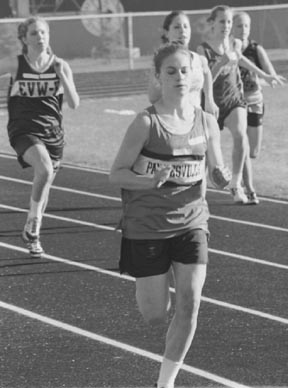 The Paynesville Bulldogs hosted an invitational meet last Thursday. It was a great day for a meet with warm weather and sunshine.

Paynesville dominated the meet, scoring 143 as a team and nearly doubling the second place score. Cathedral was closest with 79 points.

Paynesville dominated the sprints, with Ranea Eastling placing first in both the 100-meter dash and the 200-meter dash. Eastling also placed third in the triple jump.

Eighth grader Kendra Johnson led the pack on the backstretch on the 400-meter run Thursday.

In the 400-meter relay, the Bulldogs took first place by more than a second. Right behind them was Melrose.

Jenny Hess placed first in both the mile run and the two-mile run. Brooke Schmitz was right behind Hess in the mile run, placing second.

Heidi Jansen and Joy Hemmesch threw the shot put very well to place first and second. Jansen topped Hemmesch by an inch, and they both beat the other girls by almost three feet.

Hemmesch also took first in the discus, with Morgan Martinson in second. And Hemmesch was second in the pole vault, trailing only her teammate Melissa Bachman.

In the long jump Danny Lieser took first place, beating the second place girl by half an inch. Katrina Orbeck also placed in the long jump. She was fourth.

Team scores
1. Paynesville 143
2. Cathedral 79
3. Long Prairie Grey Eagle 70
4. Melrose 53
5. Eden Valley Watkins-Kimball 33

Individual Results
100-meter hurdles: Hannah Braun, third, 17.92; Jessica Virant, fourth, 18.0;
300-meter hurdles: Braun, second, 53.23;
100-meter dash: Ranea Eastling, first, 12.62;
200-meter dash: Ranea Eastling, first, 26.31;
400-meter dash: Kendra Johnson, third, 1:06.17; Danny Lieser, fifth, 1:07.5;
800-meter run: Brooke Schmitz, second, 2:32.95; Mandy Mayer, fifth, 2:42.18;
1,600-meter run: Jenny Hess, first, 5:12.49; Brooke Schmitz, second, 5:46.14;
3,200-meter run: Jenny Hess, first, 11:10;
400-meter relay: Eastling, Jansen, Joy Hemmesch, Carla Hemmesch, first, 54.21;
800-meter relay: Jansen, Ashley Wall, Carla Hemmesch, Hannah Braun, third, 2:00;
3,200-meter relay: Lieser, Mayer, Kolb, Johnson, second,10:46.42;
Discus: Joy Hemmesch, first, 93' 8.5"; Morgan Martinson, second, 87' 4";
Shot put: Jansen, first, 32' 2"; Hemmesch, second, 32' 1";
High jump: Wall, fifth, 4' 8";
Long jump: Lieser, first, 15' 4"; Orbeck, fourth, 14' 9";
Triple jump: Eastling, third, 31' 9.5"; Mayer, fourth, 30' 11";
Pole vault: Bachman, first, 8' 6"; Hemmesch, second, 8' 0.
---