Dogs take fifth in conference meets
This article submitted by Michael Jacobson on 5/02/01.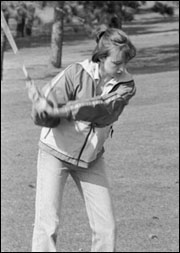 The Bulldogs finished in fifth place at their third conference meet held on Tuesday, April 24, in Sauk Centre.

Leading the Bulldogs into fifth place was Katie Wright (pictured at left) with a 48. Coming in second for the Bulldogs was Jena Spaulding with a 54. Sally Heitke and Brittany Caldwell shot a 55 and 58, respectively.

Maria Janotta came in with a 58. Amanda Glenz shot a 61, followed closely by Erin O'Fallon who shot a 62.

Team scores
1. Albany 193
2. Sauk Centre 197
Litchfield 197
4. Cathedral 206
5. Paynesville 215
6. Long Prairie-Grey Eagle 239
7. Melrose 242

Individual Results
Paynesville: Katie Wright 48; Jena Spaulding 54; Sally Heitke 55; Brittany Caldwell 58; Maria Janotta 58; Amanda Glenz 61; Erin O'Fallon 62.

Melrose meet
The Albany meet, which was scheduled for Thursday, was postponed due to flooding on the course. Instead, Melrose held their conference meet.

The Bulldogs' top scorer was Maria Janotta, who shot a 46. Sally Heitke was the second Bulldog with a 52. Both Erin O'Fallon and Amanda Glenz carded 56s to give the team a total of 210, which placed them in fifth place again.

Albany continues to dominate the team competition with another first-place finish.

Team scores
1. Albany 183
2. Sauk Centre 189
3. Cathedral 191
4. Litchfield 196
5. Paynesville 210
6. Long Prairie-Grey Eagle 231
7. Melrose 247

Individual Results
Paynesville: Maria Janotta 46; Sally Heitke 52; Erin O'Fallon 56; Amanda Glenz 56; Katie Wright 57.

Home meet
On Saturday, the girls hosted the 18-hole Paynesville Invitational. Renville City West and two-time defending champion Sauk Centre took part in the meet.

Sauk Centre took home the trophy for the third year in a row with a 379. A distant second place went to Paynesville with a 434. Finishing last was RCW with a 469.

Sally Heitke took home an individual trophy for fifth place, shooting a 106. Three other Bulldogs came close to placing: Erin O'Fallon (108), Maria Janotta (109), and Jena Spaulding (111).

Sauk Centre swept the top four spots. Jenna Schurman took fourth place with a 105. Sisters Lindsay Welle and Beth Welle were third and second, shooting 99 and 88 respectively. First place, for the third consecutive year, went to Jackie Beste of Sauk Centre with an 87. Beste was the state runner-up last year in Class A.

Team scores
1. Sauk Centre 379
2. Paynesville 434
3. Renville County West 469

Individual Results
Paynesville: Sally Heitke 57-49=106; Erin O'Fallon 55-53=108; Maria Janotta 59-50=109; Jena Spaulding 56-55=111; Amanda Glenz 60-59=119; Brittany Caldwell 62-60=122.
---