Paynesville man wins fishing tournament
This article submitted by Linda Stelling on 05/2/01.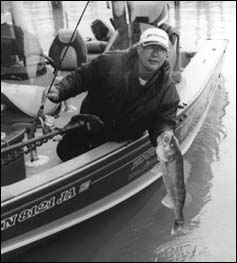 Jim Klick of Paynesville won first place in the Wal-Mart RCL Walleye tournament on Lake Erie at Port Clinton, Ohio, with five walleyes that weighed in at 40 pounds, 12 ounces.

Klick, who lives on Pirz Lake, said "It doesn't get any better than this." Klick's highest placing had been fourth where he won $7,500.

His first place prize in this tournament netted him $50,000 and a fully rigged Mercury-powered Lund boat.

Competition started on Wednesday, April 11, with 154 anglers from 15 states. After Friday's weigh-in the field was cut to the top 12 anglers in the pro and co-anglers division. Klick and his partner Cecil Newman of River Rouge, Mich., qualified for the final round after landing four walleyes, weighing 23 pounds, three ounces on Friday.

Klick used crankbaits and planar boards to win the tournament.

Another Minnesotan finished in the top five. Christ Peters of Kimball won $20,000. He and his partner caught five walleyes weighing 33 pounds, seven ounces.

The win qualifies Klick and Newman for the RCL championship scheduled for Lake Michigan at Green Bay, Wis., on Oct. 2 to 6.

Last weekend, Klick placed 20th Ñ winning $3,000 Ñ in the In-Fisherman tournament in Chamberlain, S.D.

Klick is the fishing pro for Hoot's Marine of Ottertail.
---