Boys outscore Cathedral by 60 points
This article submitted by Andy Jones on 5/02/01.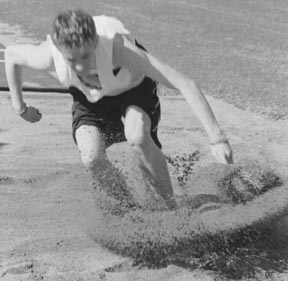 The Bulldogs won their only home meet of the year last Thursday in convincing fashion.

It was a beautiful day with plenty of sun, but just a bit too much wind for most people.

The Bulldogs crushed their opponents by outscoring their nearest competitor by 60 points.

It was a great day individually as well, with many personal bests recorded.

Junior Ryan Whitcomb lands in the long jump pit with a personal best leap of 20' 3.75".

Nic Glenz had a great day, winning the pole vault and taking second in both the 200-meter dash and the discus. Glenz was also part of the winning 400-meter relay team. Other members on the team were Troy Fuchs, Adam Schaefer, and Ryan Whitcomb.

Whitcomb easily won both the triple jump and the long jump competitions. In the long jump, he surpassed his personal best by more than a foot, with a wind-aided leap of nearly 20' 4".

Clayton Lang had his usual good day, winning the 1,600-meter run and taking second in the 3,200-meter run. The Bulldogs took eight of the ten places in the 1,600-meter and 3,200-meter runs.

Josh Trees took second in both the 100-meter dash and the high jump competition.

Eric Korman did well in all of his events, winning the 800-meter run and taking part in both the 1,600-meter relay, which was second, and the 3,200-meter relay that took first.

Other members of the 1,600-meter relay team were Riley Flanders, Scott Thompson, and Travis Flanders. Members of the winning 3,200-meter relay team were Ryan Flanders, Tommy Flannigan and Travis Flanders.

Travis Flanders also took second place in the 400-meter dash.

Team scores
1. Paynesville 151
2. St. Cloud Cathedral 89
3. Melrose 69
4. LPGE 44
5. Eden Valley-Watkins/Kimball 17

Individual Results
110-meter hurdles: Steve Mages, third, 16.61;
300-meter hurdles: Mages, fourth, 46.82;
100-meter dash: Josh Trees, second, 11.35; Adam Schaefer, fourth, 11.76;
200-meter dash: Nic Glenz, second, 23.92;
400-meter dash: Travis Flanders, second, 54.32; Chad Wyffles, fourth, 58.31;
800-meter run: Eric Korman, first, 2:07; Tom Flannigan, third, 2:16;
1,600-meter run: Clayton Lang, first, 4:39; Dan Pearson, third, 4:49, Ryan Flanders, fourth, 4:55; Jesse Rien, fifth, 4:58;
3,200-meter run: Lang, second, 10:15; Pearson, third, 10:22; Rien, fourth, 10:48; Adam Utsch, fifth, 10:58;
400-meter relay: Ryan Whitcomb, Nic Glenz, Adam Schaefer, Troy Fuchs, first, 46.67;
800-meter relay: Troy Fuchs, Lee Fuchs, Andrew Jones, Pat Utsch, third, 1:44;
1,600-meter relay: T. Flanders, Riley Flanders, Scott Thompson, Korman, second, 3:43;
3,200-meter relay: T. Flanders, Korman, Ryan Flanders, Flannigan, first, 8:56;
Discus: Glenz, second 105' 11"; Aaron Flint, third, 104' 8";
Shot put: Flint, third, 39' 1.5";
Long jump: Whitcomb, first, 20' 3.75"; Jones, fourth, 18' 5.5"; L. Fuchs, fifth, 18'4";
High jump: Trees, second, 6' 2";
Triple jump: Whitcomb, first, 39' 4" Jones, second, 37' 8";
Pole vault: Glenz, first, 11' 0"; T. Fuchs, fourth, 9' 6".
---