Glenz is medalist at home dual meet
This article submitted by Michael Jacobson on 5/02/01.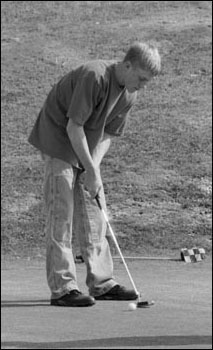 Junior Nathan Glenz (pictured at left) shot a 38 to earn medalist honors at a home dual meet for the Bulldogs boys' golf team on Tuesday, April 24.

Glenz's two-over-par score won the individual portion by six strokes. Next was teammate Corey Schmitt, a senior, with a 44. Junior Adam Rafferty shot 47.

Those were the three varsity players with scores in the 40s. Kimball/Eden Valley-Watkins's low man shot 50.

Junior David Jones shot 48 for the Bulldogs, but his score counted in the junior varsity's win.

As a team, the Bulldogs beat Kimball/EV-W by 31 strokes, 182-213. Paynesville's junior varsity nearly beat Kimball/EV-W's varsity, as the Bulldogs' shot 218. They won the junior varsity competition by 16 strokes.

Team scores
1. Paynesville 182
2. Kimball/EV-W 213
3. Paynesville JV 218
4. Kimball/EV-W JV 234

Individual Results
Paynesville: Nathan Glenz 38; Corey Schmitt 44; Adam Rafferty 47; Mark Brossard 53; and Mitchell Mackedanz 55.

St. Cloud meet
The Bulldogs fell far short in a highly competitive conference meet at the Angushire Golf Course in St. Cloud on Thursday. The Bulldogs finished only three strokes behind their Tuesday's team total, but this wasn't even close to the conference competition, as they finished last.

Melrose, behind medalist Andy Bucholz's 35, won with a total of 157. The five other teams - Litchfield, LPGE, Cathedral, Sauk Centre, and Albany - were all within six strokes of Melrose. Ten players from those teams had rounds in the 30s in the nice playing conditions. LPGE, which finished third, had a highest score of 43.

The Bulldogs were led by Glenz and Mitchell Mackedanz with 45s and Schmitt with a 46. Eric Gerding shot a 49 to complete the Bulldogs' team score.

Team scores
1. Melrose 157
2. Litchfield 158
3. Long Prairie-Grey Eagle 161
4. Cathedral 161
5. Sauk Centre 162
6. Albany 163
7. Paynesville 185

Individual Results
Paynesville: Nathan Glenz 45; Mitchell Mackedanz 45; Corey Schmitt 46; Eric Gerding 49; Adam Rafferty 51; Mark Brossard 53; and David Jones 56.
---