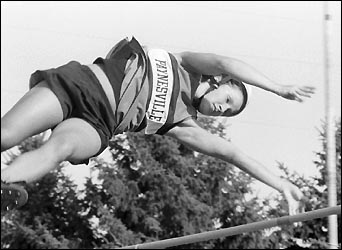 The Paynesville girl tracksters held their second invitational on Thursday. The weather was very cold and windy and not enjoyed by the participants. Despite the weather, the Bulldogs had a great day and won the meet handily.

"The girls really had an awesome meet scoring 246 points," said coach Dave Randgaard. "That was really an outstanding total."

The Bulldogs took ten firsts in the meet. Double winners were ninth grader Kendra Johnson in the 110-meter and 300-meter hurdle races and senior Jen Hess in the 1,600- and 3,200-meter runs.

Melissa Bachman has set the school indoor and outdoor records this spring in pole vault.

Other first place winners were eighth grader Brooke Schmitz in the 800-meter run, junior Morgan Martinson in the discus, senior Heidi Jansen in the shot put, and senior Melissa Bachman in the pole vault.

The Bulldogs had two winning relays: the 400-meter relay with sophomore Heather Christensen, Jansen, Johnson, and Bachman (running together for the first time); and the 3,200-meter relay with senior Sara Lieser, Schmitz, junior Jenny Berg, and junior Mandy Mayer. They won by 16 seconds.

The Bulldogs swept the top two places in the hurdle races, with Johnson winning both races, including a personal best time in the 300-meter race. Sophomore Jess Virant was second in the 100-meter hurdles, and junior Hannah Braun was second in the 300-meter hurdles.

The Bulldogs also swept the top two spots in the discus 3,200-meter run, with seventh grader Kacy Nehowig following Hess. (Nehowig was also third in the 1,600-meter run.)

In the discus, senior Ashley Wall was second behind Martinson, who also took third in the shot put. The Bulldogs scored 23 points in the discus, with sophomore Peggy Thompson taking fifth and Bachman finishing sixth as well.

Sophomore Jessica Paul had personal bests in both the shot put and the pole vault, taking fourth in each event.

"We were really mentally tough for this meet. I was really pleased with the team's effort and how everyone just accepted the conditions and performed to a very high level," said Randgaard.

The girls' team will travel to Holdingford on Thursday for the true team meet. The top team advances to the state true team meet, and the second place team could advance as a wild card team, depending on their score. The Dogs see Mayer-Lutheran, Blake, and Holdingford as the teams to beat.

Team Scores
1. Paynesville 246
2. LPGE 150
3. Minnewaska 113
4. St. Cloud Cathedral 73
5. EV-W/Kimball 52
6. Melrose 37
7. BBE 7

Individual Results
100-meter hurdles: Kendra Johnson, first, 17.83; Jess Virant, second, 17.91; Hannah Braun, fifth, 18.5;
300-meter hurdles: Johnson, first, 53.31(personal best); Braun, second, 54.76;
100-meter dash: Heather Christensen, third, 13.55;
200-meter dash: Tara Schmidt, fourth, 29.87; Christensen, sixth, 30.06; Carla Hemmesch, seventh, 30.67;
400-meter dash: Danny Lieser, third, 1:10.18; Jenny Berg, fourth, 1:11.85; Hemmesch, fifth, 1:12.94;
800-meter run: Brooke Schmitz, first, 2:36.9; Mandy Mayer, seventh, 2:49.53;
1,600-meter run: Jen Hess, first, 5:24; Kacy Nehowig, third, 6:00.6;
3,200-meter run: Hess, first, 11:33.42; Nehowig, second, 13:20.81;
400-meter relay: Christensen, Heidi Jansen, Johnson, Missy Bachman, first, 56.57;
800-meter relay: fifth, 2:03.6;
1,600-meter relay: Lieser, Schmitz, Mayer, Berg, third, 4:37.25;
3,200-meter relay: Sara Lieser, Mayer, Schmitz, Berg, first, 11:10.5;
Discus: Morgan Martinson, first, 95' 3"; Ashley Wall, second, 87' 8" (personal best); Peggy Thompson, fifth, 81' 1/2" (personal best); Bachman, sixth, 80' 2 1/2";
Shot put: Jansen, first, 32' 9 3/4"; Martinson, third, 28' 5 1/2"; Jess Paul, fourth, 26' 11 1/2" (personal best);
High jump: Wall, third, 4' 10"; Johnson, fifth, 4' 8";
Long jump: Jansen, third, 15' 3 1/4"; Lieser, fourth, 15' 3";
Triple jump: Bachman, second, 31' 8"; Virant, fourth, 31' 5"; Mayer, seventh, 29' 7";
Pole vault: Bachman, first, 9' 6"; Jess Paul, fourth, 7' 0"(personal best).
---
Contact the author at paypress@lkdllink.net • Return to Sports
Home | Marketplace | Community
---