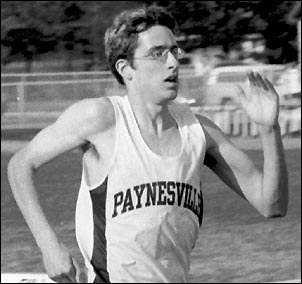 The Paynesville tracksters had their second home meet of the year on Thursday in miserable weather. Even though the temperature was in the high 30s with strong winds, the boys' track team crushed its competition, winning the meet by more than 80 points.

Despite the awful weather, the Dogs had some good performances from many athletes.

Senior Jesse Rien (pictured at left) was a double winner in the 800- and 1,600-meter races. Senior Josh Trees also was a double winner in the high jump and triple jump.

The Bulldogs swept the long jump with senior Ryan Whitcomb in first, senior Andy Jones in second, and sophomore Lee Fuchs-Thielen in third.

The Bulldogs' 3,200-meter relay - juniors Riley Flanders, Tommy Flannigan, Freddie Stock, and senior Scott Thompson - also took first, while the team's 1,600-meter relay and 800-meter relay took second and the 400-meter relay took third.

Junior Steve Mages took second in the 300-meter hurdles and third in the 110-meter hurdle race.

Other runner-up finishes for the Dogs were: senior Nic Glenz in the pole vault; junior Riley Flanders in the 800-meter run; senior Dan Pearson in the 3,200-meter run; junior Milan Virant in the 400-meter dash; and senior Jason Leyendecker in the discus. Leyen-decker threw a career best 113' 11" to take second.

Senior Adam Schaefer took third in the 100-meter dash.

The Bulldogs have their true team meet at Holdingford on Thursday, starting at 4 p.m.

Team scores
1. Paynesville 215
2. Minnewaska 131
3. St. Cloud Cathedral 127.5
4. Melrose 66
5. LPGE 57
6. Belgrade-Brooten-Elrosa 50.5
7. Eden Valley-Watkins/Kimball 14

Individual Results
110-meter hurdles: Steve Mages, third, 16.01; Adam Schaefer, fifth, 17.9;
300-meter hurdles: Mages, third, 45.02; Chad Wyffels, 46.51;
100-meter dash: Schaefer, third, 11.53; 200-meter dash: Milan Virant, fifth, 24.68; Ryan Whitcomb, sixth, 24.75;
400-meter dash: Virant, second, 56.05; Andy Jones, fourth, 56.8; 800-meter run: Jesse Rien, first, 2:14.3; Riley Flanders, second, 2:20.6; Tom Flannigan, fourth, 2:22.6;
1,600-meter run: Rien, first, 4:53; Dan Pearson, fourth, 5:07;
3,200-meter run: Pearson, second 11:13, Freddie Stock, fourth, 12:10;
400-meter relay: Whitcomb, Josh Trees, Nic Glenz, and Schaefer, third, 46.3;
800-meter relay: Whitcomb, Mages, Glenz, and Lee Fuchs-Thielen, second, 1:43.81;
1,600-meter relay: Flanders, Wyffles, Jones, and Scott Thompson, second, 3:50;
3,200-meter relay: Flanders, Stock, Flannigan, and Thompson, first, 7:24.2;
Discus: Jason Leyendecker, second, 113' 11"; Jonnie Schefers, sixth, 108' 10"; Rick Magedanz, eighth, 102' 2";
Shot put: Andy Torborg, fourth, 39' 11.75"; Schaefer, fifth, 39' 9.5";
High jump: Trees, first, 6' 0"; Josh Teicher, fifth, 5' 4";
Long jump: Whitcomb, first, 19' 2.75"; Jones, second, 18' 9.5"; Fuchs-Thielen, third, 18' 8";
Triple jump: Trees, first, 41' 1.25"; Jones, fourth, 38' 8.5"; Whitcomb, fifth, 38' 6.6";
Pole vault: Nic Glenz, second, 11' 6".
---
Contact the author at paypress@lkdllink.net • Return to Sports
Home | Marketplace | Community
---