The Paynesville Bulldogs girls' track team dominated at the Paynesville Invite against four schools on Thursday. The Bulldogs won their home meet by almost 70 points.

Paynesville had 12 first-place finishes and 33 top-five finishes. Second place was Minnewaska, followed by Eden Valley-Watkins /Kimball, Melrose, and BBE.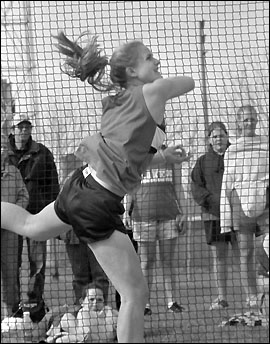 Coach Dave Randgaard said he is really impressed by the girls' progressing performances. "We really had an outstanding performance, winning 12 out of 18 events. We are also showing better depth by having multiple places in many events," he said.
Senior Morgan Martinson won the discus competition on Thursday at home. Earlier this season, she set a new school record in the event. She also placed second in the shot put last week.
Ninth grader Tara Schmidt had three first place finishes at the meet, winning the 100-meter dash, the 200-meter dash, and running the anchor leg on the winning 400-meter relay. She also placed fifth in the long jump.
Ninth grader Brooke Schmitz also had three first places. She dominated the 800-meter run and the 1,600-meter run, and she ran the last leg of the winning 1,600-meter relay
Other first place finishes were recorded by sophomore Kendra Johnson in the 300-meter hurdles, senior Mandy Mayer in the 400-meter run, eighth grader Kacy Nehowig with a personal best in the 3,200-meter run, senior Morgan Martinson in the discus, and eighth grader Tanis Beireis and junior Jessica Paul who tied for first place in the pole vault.
The Bulldogs also won three out of the four relays.
This week, the Dogs competed at BBE on Tuesday. They also will compete in the true team sectional at Holdingford on Thursday, starting at 3:30 p.m.
Team scores
1. Paynesville 162
2. Minnewaska 95
3. Eden Valley-Watkins/Kimball 42
4. Melrose 27
5. Belgrade-Brooten-Elrosa 25
Individual Results
100-meter hurdles: Brittany Lieser, third, 19.6 (personal best); Lindsey Wyffels, fourth, 21.2; Kacie Wander, fifth, 21.7;
300-meter hurdles: Kendra Johnson, first, 49.1; Tanis Beireis, fifth, 53.3;
100-meter dash: Tara Schmidt, first, 13.3; Bari Behling, fourth, 13.9 (personal best);
200-meter dash: Schmidt, first, 27.4; Mandy Mayer, third, 29.2 (personal best);
400-meter run: Mayer, first, 1:04.9 (personal best); Megan Reeck, fourth, 1:09;
800-meter run: Brooke Schmitz, first, 2:31; Jen Berg, third, 2:44;
1,600-meter run: Schmitz, first, 5:36; Sheena Hoekstra, fourth, 6:49;
3,200-meter run: Kacy Nehowig, first, 11:52 (personal best); Hoekstra, second, 15:08;
400-meter relay: Johnson, Behling, Maggie Frieler, and Schmidt, first, 54.0;
800-meter relay: Reeck, Behling, Frieler, and Jessica Paul, third, 1:59;
1,600-meter relay: Mayer, Reeck, Berg, and Schmitz, first, 4:33;
3,200-meter relay: Berg, Beireis, Nehowig, and Jessica Kotten, first, 11:10;
Discus: Morgan Martinson, first, 100' 5"; Peggy Thompson, fourth, 84';
Shot put: Martinson, second, 30' 6"; Lieser, third, 27' 6"; Paul, fourth, 27';
High jump: Lieser, third, 4' 10"; Johnson, fourth, 4' 10";
Long jump: Schmidt, fifth, 14' 5 `/2";
Triple jump: Mayer, fourth, 30' 10 1/4";
Pole vault: Beireis, first, 6' 6" (personal best); Paul, first, 6' 6"; Lieser, third, 6' 6".
---
Contact the author at editor@paynesvillepress.com • Return to Sports
Home | Marketplace | Community
---