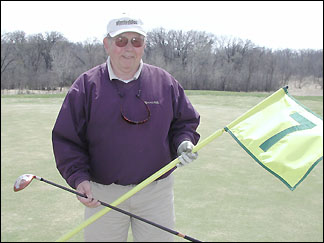 Chuck Chesness aced his second hole at Koronis Hills Golf Club. On Monday, April 14, Chesness carded an elusive "1" on his scorecard for the second time by holing his tee shot on the par-3, 203-yard #7.

Chesness was playing a casual round with Dorothy Martinson and Don and Helen Lehman when he got his hole in one. He said he hit a good shot but got lucky, too.

"I didn't see it go in or nothing," said Chesness. "But they said it got on the green."

His playing partners saw the ball head right at the pin on the left side of the green and disappear. They assumed that it flew the green, but they could not find it there, either.

Then they checked the cup. "I had no idea that it went in," said Chesness.

Helen Lehman also birdied the hole that day.

Chesness, now retired, has golfed for 16 years or so. He tries to golf at least three times a week. "I really enjoy the game," he said. "It's relaxing, whether I shoot good or bad."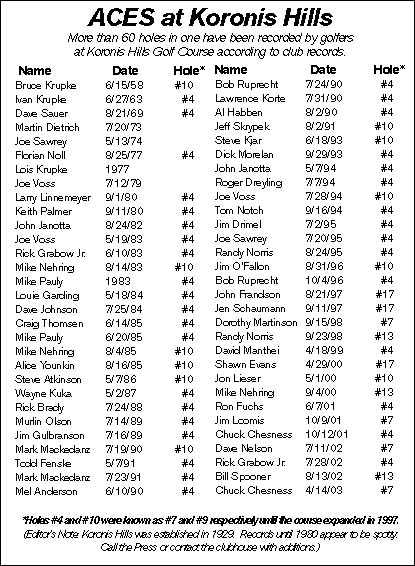 Chesness previously had a hole in one on #4 in October 2001. According to club records, which only go back to the 1960s, his is the 61st hole in one at the course, and he is the 11th golfer to have more than one hole in one at Koronis Hills.
Mike Nehring and Joe Voss each have three holes in one at Koronis Hills. Chesness, Rick Grabow Jr., John Janotta, Jim Loomis, Mark Mackedanz, Randy Norris, Mike Pauly, Bob Ruprecht, and Joe Sawrey each have two aces at Koronis Hills.
Chesness is the fourth player to card an ace at the new #7. This hole was added when the course expanded to 18 holes in 1997. Ironically, Martinson recorded the first hole in one on #7.
---
Contact the author at editor@paynesvillepress.com • Return to Sports
Home | Marketplace | Community
---