Bulldogs claim baseball tournament championship
This article submitted by Michael Jacobson on 4/28/99.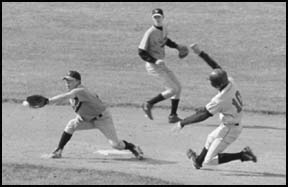 The Bulldogs cruised to two ten-run-rule victories Saturday and claimed the championship of their three-team tournament.

In the opener at 10 a.m., the Bulldogs jumped on Atwater-Grove City-Cosmos with two runs in the first and six in the second. Brent Heinen and Dustin Looman hit back-to-back homers for the Bulldogs in the second inning. Heinen's was a three-run blast.

In the third inning, Tyler Wuertz hit a bases-loaded double to score three more runs for Paynesville

By the time ACGC got a hit, the Bulldogs led 11-1 and they ended up winning 12-2.

Wuertz threw for Paynesville and had a no-hitter through four innings. ACGC scored an unearned run in the fourth, and collected three hits, including a home run in the fifth. "Tyler threw a nice game," said head coach Brad Skoglund. "He went right at the hitters, threw strikes, and did a nice job of keeping the ball down."

After Eagle Valley beat ACGC 17-4 at noon, the Bulldogs squared off against Eagle Valley for the championship at 2 p.m.

"Again we got out early and got the lead," said Skoglund.

The Bulldogs scored two in the first and six in the second again. They didn't stop either, scoring seven more in the next two innings to win 15-0.

The Bulldogs had 13 hits, including four home runs, a triple, and two doubles. Looman hit two home runs for Paynesville, giving him three for the day and five for the year. Wuertz and Scott Braun also homered. Ben Bork had a double and triple and scored three runs.

In their first pitching action of the season, Nathan Schutz and Jon Lieser combined on a three-hit shutout.

Skoglund was pleased with the results and the fine weather, but was still concerned about the team's play in the field. "Defensively we're still making too many mistakes," he said. "We have to tighten up and make the plays, especially when we get back into conference play."

ACGC 000 11 - 2 3 4
Paynesville 263 01 - 12 8 2

Eagle Valley 000 00 - 0 3 0
Paynesville 264 3x - 15 13 0

Cathedral 7
Paynesville 6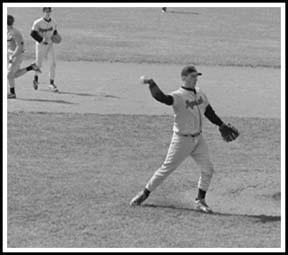 The Bulldogs played well enough to beat state-ranked St. Cloud Cathedral Thursday night, but a six-run Crusader rally sent the game into extra innings and the Crusaders prevailed in nine innings.

"That was a tough one," said Skoglund Friday morning. "I still have a sick feeling in my stomach."

Starting pitcher Doug Fuchs had a no-hitter through five innings, and the defense was flawless, too. The only Crusader threat was in the third, when walks loaded the bases, but Fuchs escaped that jam.

"Doug threw great. That was pleasing," said Skoglund. "(He) kept them off-balance, threw strikes, and was getting ahead of hitters."

The Bulldogs, meanwhile, were able to manufacture six runs with only five hits. In the third, Ben Bork singled, stole second, advanced on a throwing error, and scored on a wild pitch.

Skoglund said the Bulldogs ran the bases well, using delay steals and double steals and getting good jumps. "We really played heads-up baseball for the majority of the game," said Skoglund.

Brent Heinen stole two bases, and Bork and Dustin Looman stole one apiece. Looman walked three times. Nathan Schutz had two sacrifices.

Seven Cathedral errors helped, too. In the fifth, Brent Heinen reached on an error, stole second, and scored on another error.

The Bulldogs appeared to have sealed the victory with four runs in the top of the seventh, but Cathedral managed to tie in the bottom of the seventh. With one out, a Cathedral hitter singled with two strikes and the next batter reached on an error. Three hits and two walks later, the bases were full, and the Bulldogs lead was just 6-3. A Bulldog error allowed three runs to score and tie the game.

Cathedral scored another unearned run in the ninth inning on a ground-ball single to center that just avoided the dives of the Bulldog middle infielders.

Paynesville 001 010 400 - 6 5 4
Cathedral 000 000 601 - 7 6 7

Paynesville 10
LPGE 0



The Bulldogs jumped on the Long Prairie-Grey Eagle Thunder last Tuesday, April 20, and earned their first victory of the season with a 10-0 win in five innings.

Paynesville took an early lead with two unearned runs in the first inning, and then plated four more in the second. Nathan Schutz and Dustin Looman doubled and scored in that inning. Tyler Wuertz and Brent Heinen added hits, with Heinen and Curtis Christian also scoring runs.

Christian scored another run in the fourth inning.

In the fifth, Ben Bork walked, stole second, and scored on Schutz's single. Schutz then scored on Jon Lieser's double.

Looman and Wuertz each batted in two runners for the Bulldogs. Heinen, Bork, Schutz, and Lieser had an RBI apiece.

"Brent Heinen threw very well," said Skoglund. Heinen allowed a mere two hits in five innings while striking out ten.

"We played flawless defense," added Skoglund.

"After playing poorly last week, we played good ball this week, which is encouraging. We're going to be a good ball club," said Skoglund.

Paynesville 240 13 - 10 8 0
LPGE 000 00 - 0 2 5

The Bulldogs hosted Melrose yesterday and play at Litchfield on Thursday. On Friday, they host Royalton and the varsity will play in the evening. Next Tuesday, they travel to Albany.

All remaining home junior varsity baseball games will be played in Regal unless the varsity is playing a night game, like Friday, for example. Then the junior varsity game will precede the varsity on the high school field.

Ninth grade games will be held in Lake Henry.
---