After four straight runner-up finishes, the Paynesville girls' track team earned their second title of the season, winning a seven-team meet at Melrose on Thursday.

The Bulldogs, despite having an injury and illness depleted squad, scored 164 points to win the meet. Sauk Centre was second with 140 points, and Osakis was third with 115 points.

The Bulldogs won the St. John's Invite, an indoor meet, to start their season and had finished second in four previous outdoor meets.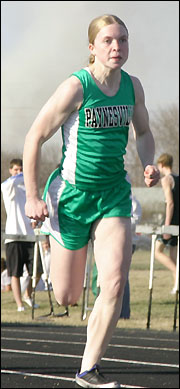 The Bulldogs placed two people in 11 of 13 individual events. In all, they had 27 placers, including 15 in the top three: five firsts, five seconds, and five thirds, including all four relay teams.

Junior Kendra Johnson won both the 100-meter hurdles and the 300-meter hurdles; sophomore Tara Schmidt won the 200-meter dash and the long jump; and ninth grader Kacy Nehowig won the 1,600-meter run. Johnson, Schmidt, and Nehowig each added a second-place finish; Johnson in the high jump, Schmidt in the 100-meter dash; and Nehowig in the 800-meter run.

Sophomore Tara Schmidt won the 200-meter dash and the long jump at Melrose last week.

Senior Jessica Paul had double seconds, finishing as the runner-up in both the discus and the shot put. Johnson also took third in the 200-meter dash. Paynesville's four other third-place finishes came from its relay teams.

Junior Brittany Lieser and eighth grader Natalie Leadem each placed in three individual events for the Dogs. Lieser in the high jump (fourth), triple jump (fourth), and the shot put (fifth); Leadem in the 100-meter hurdles (fourth), discus (fourth), and 300-meter hurdles (fifth).

Coach Dave Randgaard was pleased with the team's perfor-mance, especially considering that 11 girls missed the meet and the team had only 16 members participate. "We really challenged the girls to rise to the challenge since we were without so many team members," said Randgaard. "They really came through with a strong, competitive spirit, giving it their best effort. The coaches were really proud of the girls."

This week, the Dogs competed at Long Prairie on Tuesday. They will host their second meet on Thursday at the high school track, with the meet starting at 4:30 p.m.

Team scores
1. Paynesville 164
2. Sauk Centre 140
3. Osakis 115
4. Melrose 90
5. BBE 82
6. St. John's Prep 36
7. Upsala/Swanville 13


Individual Results


100-meter hurdles: Kendra Johnson, first, 16.7; Natalie Leadem, fourth, 20.2;
300-meter hurdles: Johnson, first, 48.6; Leadem, fifth, 60.0;
100-meter dash: Tara Schmidt, second, 13.2; Randi Schaefer, eighth, 14.0;
200-meter dash: Schmidt, first, 27.1; Johnson, third, 28.1;
400-meter dash: Kaitlyn Frenchick, fifth, 1:07.5; Tanis Beireis, sixth, 1:07.7;
800-meter run: Kacy Nehowig, second, 2:32; Beireis, fifth, 2:39;
1,600-meter run: Nehowig, first, 5:37; Sheena Hoekstra, seventh, 6:20;
3,200-meter run: No runners entered;
400-meter relay: Kacie Wander, Schaefer, Brittany Lieser, and Jessica Paul, third, 55.6;
800-meter relay: Wander, Paul, Schaefer, and Schmidt, third, 1:57;
1,600-meter relay: Nehowig, Brooke Schmitz, Frenchick, and Beireis, third, 4:34;
3,200-meter relay: Frenchick, Megan Reeck, Schmitz, and Hoekstra, third, 11:14;
Discus: Paul, second, 86' 10"; Leadem, fourth, 78' 4";
Shot put: Paul, second, 30' 6"; Lieser, fifth, 26' 10";
High jump: Johnson, second, 4' 10"; Lieser, fourth, 4' 8";
Long jump: Tara Schmidt, first, 15' 7 1/2";
Triple jump: Lieser, fourth, 30' 7"; Frenchick, seventh, 30' 4";
Pole vault: Not held.
---
Contact the author at editor@paynesvillepress.com • Return to Sports
Home | Marketplace | Community
---