The Bulldogs boys' track team won their first invitational of the spring, winning an eight-team meet at Melrose on Thursday.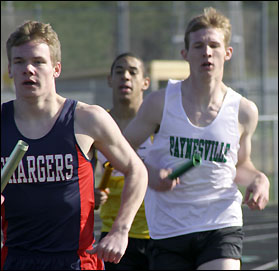 The Bulldogs scored 146, easily outscoring second place Sauk Centre (92.5 points), third place Osakis (90 points), and fourth place Melrose (87 points).
The Dogs had 26 placewinners, including three firsts, two seconds, and 11 thirds. Winners were senior Lee Fuchs-Thielen in the triple jump, senior Chad Wyffels in the 400-meter run, and the 3,200-meter relay (sophomore Sean Glenz, junior Jason Wendroth, junior Chris Utsch, and junior Matt Mehr).
Senior Chad Wyffels (right) won the 400-meter run at Melrose last week.
Mehr and Utsch also combined to take second and third in the 3,200-meter run.
Fuchs-Thielen and Wyffels took two of the top three spots in the triple jump, too, with Wyffels taking third in addition to Fuchs-Thielen.
Fuchs-Thielen also took second in the long jump and took thirds in the 100-meter and 200-meter dashes. Wyffels also took third in the 800-meter run.
Senior Scott Millner took third in both the 110-meter hurdles and the 300-meter hurdles, and senior Derek Burris was third in both the discus and shot put.
Other top three finishes for the Dogs were Glenz in the 1,600-meter run and the 1,600-meter relay team (Wyffels, sophomore Keith Klein, Glenz, and Millner).
The Dogs also placed multiple athletes in seven events: both hurdles (with sophomore Aaron Bachman placing as well as Millner); in the 3,200-meter run; in the long jump (with senior Troy Fuchs-Thielen and his brother Lee placing); in the triple jump (with ninth grader Michael Houske placing as well as Lee Fuchs-Thielen and Wyffels); and the discus and shot put (with senior Rick Magedanz placing as well as Burris).
"The Dogs had a very good meet and a lot of individuals came forward with good performances," said coach Darrel Carstens. "We are improving and are looking forward to continuing this through the big meets coming soon."
This week, the Dogs competed at Long Prairie on Tuesday. They will host their second home meet on Thursday at the high school track.
Team Scores
1. Paynesville 146
2. Sauk Centre 92.5
3. Osakis 90
4. Melrose 87
5. St. John's Prep 79
6. Upsala-Swanville 64
7. Holdingford 55
8. BBE 33.5
Individual Results
110-meter hurdles: Scott Millner, third, 17.9; Aaron Bachman, fourth, 18.1;
300-meter hurdles: Millner, third, 45.9; Bachman, fifth, 47.0;
100-meter dash: Lee Fuchs-Thielen, third, 11.8;
200-meter dash: Fuchs-Thielen, third, 24.3;
400-meter dash: Chad Wyffels, first, 54.1;
800-meter run: Wyffels, third, 2:16;
1,600-meter run: Sean Glenz, third, 5:06; Jason Wendroth, sixth, 5:31;
3,200-meter run: Matt Mehr, second, 11:10; Chris Utsch, third, 11:41;
400-meter relay: Bryce Fischbach, Keith Klein, Bachman, and Travis Cromwell, fourth, 49.0;
800-meter relay: Fischbach, Michael Houske, Aaron Burris, and Alex Juell, sixth, 1:48;
1,600-meter relay: Wyffels, Klein, Glenz, and Millner, third, 3:47.7;
3,200-meter relay: Glenz, Wendroth, Utsch, and Mehr, first, 9:13;
Discus: Derek Burris, third, 110' 5"; Rick Magedanz, sixth, 105' 6";
Shot put: Burris, third, 39' 1"; Magedanz, fourth, 39';
High jump: Troy Fuchs-Thielen, sixth, 5' 2";
Long jump: Lee Fuchs-Thielen, second, 19' 9"; Troy Fuchs-Thielen, fourth, 18' 3";
Triple jump: Lee Fuchs-Thielen, first, 39' 3"; Wyffels, third, 36' 2"; Houske, eighth, 31' 4";
Pole vault: Not held.

---
Contact the author at editor@paynesvillepress.com • Return to Sports
Home | Marketplace | Community
---