Ninth grader Kaitlyn Frenchick and the Bulldogs' 800-meter relay team (senior Kendra Johnson, eighth grader Bri Jaeger, eighth grader Kally Felling, and junior Tara Schmidt) set new school records as the Dogs won the Melrose Invitational on Thursday.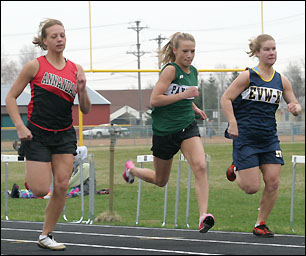 Frenchick won the triple jump with a leap of 33' 11 3/4", breaking the school record of 33' 5" set by Sabrina Hollander in 1993. She also won the 800-meter run with a personal best time of 2:28.
The 800-meter relay team broke the school record of 1:51 with a new time of 1:48.92. It was the first time this season that the Dogs have used Johnson, Jaeger, Felling, and Schmidt together on this relay. The old record was set in 1990 by Jackie Roberg, Linnea Louis, Tami Krupke, and Christy Brinkman.
Eighth grader Bri Jaeger ran a leg of the 800-meter relay last week that broke the school record. Other runners on the relay were senior Kendra Johnson, eighth grader Kally Felling, and junior Tara Schmidt.
The Dogs' 1,600-meter relay team also took first at Melrose. Running on this winning relay were ninth grader Leah Felling, ninth grader Melanie Koerner, sophomore Tanis Beireis, and Frenchick.
In all, the Dogs had seven first-place finishers at the meet. Johnson also won both hurdle races, and Jaeger also won the 400-meter dash in her first varsity race in that event.
Sophomore Kacy Nehowig was second in both the 1,600-meter run and the 3,200-meter run for the Dogs, with a season-best time in the 3,200. Schmidt was second in the 100-meter dash and third in the 200-meter dash for the Dogs.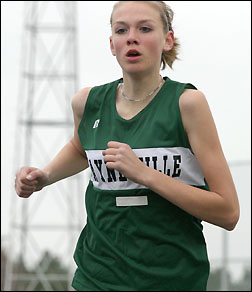 "We had a very solid performance at this meet," said coach Dave Randgaard. "Our running events scored 120 points. The real positive improvement was in our field events, scoring 43.5 points without the pole vault (Melrose does not have a pit), where we have three solid vaulters to add to our team score."
Ninth grader Kaitlyn Frenchick had personal bests in winning the 800-meter run and the triple jump last week. She set a new school record in the triple jump.
In the throws, the Dogs had six placers, scoring 23 total points. Ninth grader Natalie Leadem was third in both the shot put and discus, sophomore Randi Schaefer was fourth in both, senior Rachael Wendlandt was sixth in the shot put, and sophomore Kirsten Miller was seventh in the discus.
Personal bests at the meet included Schaefer (in both the discus and the high jump), Miller (in the 300-meter hurdles), eighth grade Anna Kotten (in the 100-meter hurdles), and Kally Felling (in the 400-meter dash).
This week, the Dogs competed at LPGE on Tuesday. They will host their second home meet on Thursday at the PAHS track, starting at 4:30 p.m.
Team Scores
1. Paynesville 163.5
2. Sauk Centre 141
3. Osakis 98.2
4. Melrose 74.2
5. BBE 55.2
6. St. John's Prep 22.4
7. Upsala/Swanville 11
Individual Results
100-meter hurdles: Kendra Johnson, first, 17.05; Anna Kotten, fourth, 18.08 (personal best);
300-meter hurdles: Johnson, first, 49.5; Kotten, fifth, 54.0; Kirsten Miller, sixth, 55.2 (personal best);
100-meter dash: Tara Schmidt, third, 13.4;
200-meter dash: Schmidt, second, 27.25;
400-meter dash: Bri Jaeger, first, 1:03.3 (personal best); Kally Felling, third, 1:04.7 (personal best); Melanie Koerner, sixth, 1:07.9;
800-meter run: Kaitlyn Frenchick, first, 2:28 (personal best);
1,600-meter run: Kacy Nehowig, second, 5:32; Tanis Beireis, fourth, 6:01;
3,200-meter run: Nehowig, second, 11:54 (season best);
400-meter relay: Kacie Wander, Randi Schaefer, Miller, Natalie Leadem, fourth, 56.7;
800-meter relay: Johnson, Jaeger, Felling, Schmidt, first, 1:48.92 (new school record);
1,600-meter relay: Leah Felling, Koerner, Beireis, and Frenchick, first, 4:25.5 (season best);
3,200-meter relay: Koerner, Leah Felling, Erin Guzy, and Beireis, third, 10:58;
Discus: Leadem, third, 91' 10"; Schaefer, fourth, 83' 4" (personal best); Miller, seventh, 72' 1";
Shot put: Leadem, third, 28'; Schaefer, fourth, 27' 3"; Rachael Wendlandt, sixth, 26' 9";
High jump: Schaefer, third, 4' 10" (personal best); Johnson, sixth, 4' 8";
Long jump: Jaeger, fifth, 13' 11";
Triple jump: Frenchick, first, 33' 11 3/4" (new school record).
---
Contact the author at editor@paynesvillepress.com • Return to Sports
Home | Marketplace | Community
---