The Bulldogs boys' track team placed third in a seven-team meet at Melrose on Thursday, their best finish of the season so far. The Dogs had 19 placewinners, including nine in the top three.

"The boys' team is continuing to improve, having their best meet of the season so far," said coach Todd Spanier. "With help from some eighth graders, we were able to fill all events and place in all events except for one."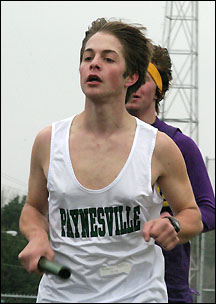 Senior Josh Binsfeld won the shot put, and sophomore Dugan Flanders won the 3,200-meter run for the Dogs. Binsfeld is continuing his strong senior season, according to Spanier, by winning the shot put and placing third in the discus. Flanders, added Spanier, ran away from the field in the 3,200-meter run and won unchallenged.
Sophomore Dugan Flanders won the 3,200-meter run for the boys' track team at Melrose on Thursday.
Runner-up finishes for the Dogs were sophomore Travis Flannigan in the 110-meter hurdles, sopho-more Curt Forster in the 300-meter hurdles, and the 400-meter relay.
"Travis ran a great race," said Spanier. "Travis has yet to realize how good he could really be. I am excited about what Travis will be able to do with a little more work."
Forster finished first in the first heat of the 300-meter hurdles - what is supposed to be the fast heat - but for the second meet in a row, a runner from another heat beat his time, giving him second, said Spanier.
Junior Aaron Bachman also placed in both hurdle races for the Dogs, including third in the 110-meter hurdles. (Bachman normally pole vaults, but Melrose does not have pole vault pits.)
Forster, senior Eric Hansen, ninth grader Bill Thompson, and sophomore Bryce Fischbach placed second in the 400-meter relay.
Hansen also placed third in the long jump and fourth in the 100-meter dash. "Eric Hansen is the guy who is really starting to put it together," said Spanier. "He is a senior, out for the first time since his freshman year. Eric placed in three events, and just missed placing in a fourth, the triple jump."
"Eric is a great leader for our young team," added Spanier. "He does a super job motivating and en-couraging other guys on the team."
Spanier also noted that Fischbach was a real team player in the meet, running legs in three relays, including the anchor leg in the 400-meter relay, where he held off a Sauk runner for second. And he placed sixth in the long jump.
Eighth graders Nathan Friederichs and Jamison Wall competed with the varsity again this meet, and eighth grader Travis Jimenez made his varsity debut. Spanier noted that Friederichs placed in the high jump, the 800-meter run, and the 3,200-meter relay; Wall placed in both the 1,600-meter and 3,200-meter relays and just missed placing in the 800-meter run; and Jimenez just missed placing in the long jump, finishing less than five inches out of seventh.
Eighth grader Kody Nehowig has also run with the varsity this year, and Spanier expects eighth grader Sam Rittenhouse to help the team, too. Junior high athletes are competing their schedule first, noted Spanier, and joining the varsity team when able.
This week, the Dogs competed at LPGE on Tuesday. They will host their second home meet on Thursday at Paynesville.
Team Scores
1. Melrose 161
2. Sauk Centre 134
3. Paynesville 94
4. Osakis 62
5. BBE 57
6. St. John's Prep 41
7. Upsala/Swanville 7
Individual Results
110-meter hurdles: Travis Flannigan, second, 18.15; Aaron Bachman, third, 19.24;
300-meter hurdles: Curt Forster, second, 46.7; Bachman, fourth, 47.68;
100-meter dash: Eric Hansen, fourth, 12.4;
200-meter dash: Bill Thompson, seventh, 24.84;
800-meter run: Nathan Friederichs, seventh, 2:28;
1,600-meter run: Matt Mehr, fourth, 5:18;
3,200-meter run: Dugan Flanders, first, 11:36;
400-meter relay: Forster, Hansen, Thompson, and Bryce Fischbach, second, 48.5;
800-meter relay: Alex Jewell, Flannigan, Fischbach, and Alex Svejkovsky, fourth, 1:43.98;
1,600-meter relay: Fischbach, Jewell, Jamison Wall, and Forster, sixth, 4:02.75;
3,200-meter relay: Mehr, Wall, Friederichs, and Flanders, third, 9:36.5;
Discus: Josh Binsfeld, third, 100' 1";
Shot put: Binsfeld, first, 38' 9 1/2";
High jump: Friederichs, sixth, 5' 2";
Long jump: Hansen, third, 17' 5"; Fischbach, sixth, 16' 5";
Triple jump: Flannigan, sixth, 33' 7 1/2".
---
Contact the author at editor@paynesvillepress.com • Return to Sports
Home | Marketplace | Community
---