The Bulldogs boys' golf team placed fourth in a 12-team, 18-hole invitational hosted by Minnewaska at Glenwood on Saturday.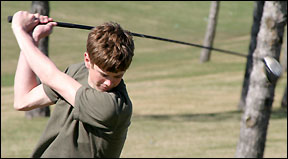 Senior Mitchell Mackedanz shot 80 in the cool conditions to place fifth individually and lead the Dogs.
Three golfers from Alexandria finished first, second, and third and led the Cardinals to the team title (307). Minnewaska (337) was second, Ortonville (338) third, and Paynesville (352) fourth.
Junior Justin Bork shot 89 as the Dogs finished fourth at a tourney at Minnewaska on Saturday. He also shot 39 and was second at Melrose.
Eighth grader Zach Fuchs shot 86 for the Dogs, junior Justin Bork shot 89, and junior Ross Barten shot 97 to complete the Dogs' team score. This week, the Dogs hosted their home conference meet at Koronis Hills on Tuesday. Next week, they will compete in a conference meet at Melrose on Tuesday, May 3.
Team Scores
1. Alexandria 307
2. Minnewaska (Blue) 337
3. Ortonville 338
4. Paynesville 352
5. Cathedral 356
6. Montevideo 357
7. Detroit Lakes 365
8. Morris 375
9. Fergus Falls (JV) 386
10. BBE 389
11. Renville County West 402
12. Minnewaska (Green) 452
Individual Results
Paynesville - Mitchell Mackedanz (5) 80; Zach Fuchs 86; Justin Bork 89; Ross Barten 97; Cody Flanders 103; Matt Fuchs 112.
Melrose Invitational
The Dogs placed four golfers in the top five and five in the top ten in winning the Melrose Invitational for the second year in a row on Thursday. The Dogs beat Melrose by 16 strokes and BBE by 23 strokes in winning the nonconference meet.
Mackedanz shot a one-under-par round of 35 to earn medalist honors for the fourth straight meet.
Bork was second with a three-over-par round of 39. Fuchs and senior Cody Flanders were in a four-way tie for fourth at 41, and junior Ross Barten was tenth at 45.
Team Scores
1. Paynesville 156
2. Melrose (A) 172
3. BBE 179
4. Melrose (B) 195
Individual Results
Paynesville - Mitchell Mackedanz (1) 35; Justin Bork (2) 39; Zach Fuchs (4) 41; Cody Flanders (4) 41; Ross Barten (10) 45; Jeremy Schmidt 49; Matt Fuchs 51.
Wapicada Meet
Senior Mitchell Mackedanz shot a three-over-par round of 40 to earn medalist honors at a West Central Conference North meet, hosted by St. Cloud Cathedral, at Wapicada Country Club on Tuesday, April 18.
The Bulldogs finished fourth as a team at the meet, played in windy conditions. Albany (173) was first, LPGE (174) second, and Sauk Centre (177) third. The Dogs (179) edged Cathedral (180) for fourth.
Mackedanz has been the medalist at both conference meets so far this spring for the boys' golf team.
Bork and Fuchs shot 46s, and Barten shot 47 for the Dogs.
Team Scores
1. Albany 173
2. LPGE 174
3. Sauk Centre 177
4. Paynesville 179
5. Cathedral 180
6. Melrose 187
Individual Results
Paynesville - Mitchell Mackedanz (1) 40; Justin Bork 46; Zach Fuchs 46; Ross Barten 47; Matt Fuchs 48; Cody Flanders 52; Jeremy Schmidt 55.
---
Contact the author at editor@paynesvillepress.com • Return to Sports
Home | Marketplace | Community
---