School records help tracksters to second
This article submitted by Courtney Karsch on 4/26/00.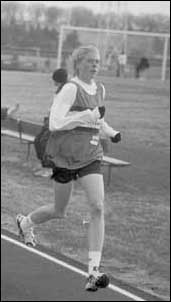 The girls' track team remains undefeated so far this season after four track meets. Their last meet was held last Tuesday at home against some outstanding competition. Even though the weather was a little funny and cold that day, the girls came out on top.

It may not be a surprise, but Jenny Hess (pictured at left) again broke the school record in the 3200-meter run. The old record was 11:11 and Hess ran it in 11:08! Hess just keeps on doing a great job in her races.

Already this year, the Dogs have seen improvements in the 100-meter hurdles as three girls placed. Hannah Braun, a freshman placed eighth, Katrina Orbeck placed fifth, and Missy Bachman placed third. These girls scored many points for the team.

The 1,600-meter run remains a strong race for Hess and Amanda Mayer as Mayer placed third with a time of 5:56 and Hess placed first with a time of 5:20.

The 300-meter hurdles is one of the more challenging races of track and as a freshmen, Braun has really come through and succeeded. Braun placed fifth in the hurdles last week and close behind her was Orbeck with eighth place. Both of the girls work hard and are a good asset to the team. "Hannah's race was a big surprise and was her personal best as well," said head coach Dave Randgaard.

The 800-meter run is another solid race for the Dogs. Carin Frenchick, a captain, placed a close second with a time of 2:37.2. And right behind her was Mayer in third with a time of 2:39.4. They scored 15 points for the team.

In the 200-meter dash, three regular runners placed great in this race. Carla Hemmesch placed sixth, Courtney Karsch placed fifth, and Tiffany Rausch placed first with a time of 28.6. These girls scored 17 big points for their team.

This last meet, the discus throwers had much better throws. Ashley Wall placed eighth, Heidi Jansen placed seventh, and Joy Hemmesch placed fourth with a throw of 89'0".

There were also two more personal bests reached last Tuesday. Rachel Koehn reached hers in the high jump, jumping 4'6". Braun reached her personal best in the pole vault reaching 7'6" and getting fourth place.

The girls had a very successful meet and it set them on the right track for their upcoming meets. "This was a big step for the team. I was impressed with our effort and desire to win," said Randgaard.

The girls competed yesterday at Annandale and their next meet is the following Tuesday, April 25, in Minnewaska at 4:15 p.m.

Team scores
1. Atwater-Cosmos-GroveCity 174
2. Paynesville 172
3. Waconia 110
4. New London-Spicer 99
5. Annandale 59
6. Dassel Cokato 43.5
7. Bloomington Lutheran 22

Individual Results
110-meter hurdles: Melissa Bachman, third, 19.4; Katrina Orbeck, fourth, 19.5; Hannah Braun, fifth, 19.7;
300-meter hurdles: Braun, fifth, 54.7 (personal best); Orbeck, fifth, 54.7;
100-meter dash: Tiffany Rausch, first, 13.9; Courtney Karsch, third, 13.95;
200-meter dash: Rausch, first, 27.2; Carla Hemmesch, sixth, 29.1 (personal best);
400-meter dash: Rausch, first, 1:02.4 (season best); Danielle Lieser, sixth, 1:06 (personal best);
800-meter run: Frenchick, second, 2:32 (personal best); Leanne Kolb, eighth, 2:43 (personal best);
1,600-meter run: Hess, first, 5:11 (personal best); Mayer, eighth, 5:51 (personal best);
3,200-meter run: Hess, first, 10:58 (new school record);
400-meter relay: Rachel Koehn, Heidi Jansen, Joy Hemmesch, Carla Hemmesch, third, 56.1;
800-meter relay: Karsch, Jansen, Sara Lieser, Carla Hemmesch, third, 1:58.6;
1600-meter relay: Danielle Lieser, Mayer, Sara Lieser, Frenchick, third, 4:28.9 (season best);
High Jump: Ashley Wall, fourth, 4' 8"; Koehn, eighth, 4' 4";
Pole Vault: Bachman, first, 10' 0" (new school record); Braun, fourth, 7' 6"; Joy Hemmesch, sixth, 7' 0";
Triple Jump: Bachman, second, 32' 3" (personal best); Mayer, fifth, 30' 5"
Long Jump: Bachman, third, 14' 8";
Discus: Joy Hemmesch, sixth, 82' 5"
Shot Put: Jansen, sixth, 32' 0" (personal best).

---