Bulldogs finish third at Annandale
This article submitted by Andrew Jones on 4/26/00.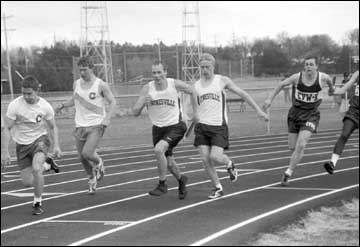 The Bulldog boys' track team competed last Tuesday afternoon in Annandale. The team ended up in third place with 145 points. They missed second place by only one point, and first place by only ten points.

The team did quite well with four first-place finishes. Luke Trees captured first in the high jump with a leap of 6' 4". Jeff Voss won a very close race in the 110-meter hurdles. Voss's margin of victory was only one tenth of a second.

Clayton Lang took home first places in the 1,600-meter and 3,200-meter races again.

Other top finishers included Steve Flint taking second place in the shot put, Adam Utsch taking second in the 3,200-meter race, Travis Flanders placing second in the 400-meter dash, and the 1,600-meter relay team of Travis Flanders, Eric Rausch, Andrew Jones, and Eric Korman taking second place.

The Paynesville distance runners continued to dominate the competition, scoring 70 points in events longer than 800 meters. That was nearly half of the Bulldogs' points!

Due to a banquet in town, a couple of the Bulldog athletes left a bit early. Their presence could have made a difference in the team score; however, they aren't expected to miss any more meets.

The team will compete at home on Friday starting at 4:30 p.m. Come cheer on the Bulldogs!

Team scores
1. Atwater-Cosmos-Grove City 155
2. Waseca 146
3. Paynesville 145
4. New London-Spicer 73.5
5. Annandale 70
6. Bloomington Lutheran 56
7. Dassel-Cokato 34.5

Individual results
110-meter hurdles: Jeff Voss, first, 15.7;
300-meter hurdles: Adam Schaefer, fourth, 46.4; Phil Mohs, fifth, 46.5;
400-meter dash: Travis Flanders, second, 54.9;
800-meter run: Eric Rausch, third, 2:07.8; Eric Korman, fourth, 2:15.2
1,600-meter run: Clayton Lang, first, 4:38; Adam Utsch, fourth, 4:54; Riley Flanders, seventh, 5:15;
3,200-meter run: Lang, first, 10:18; Utsch, second, 10:22; Dan Pearson, fifth, 10:49;
400-meter relay: Mike Smith, Chris Wendlandt, Rausch, Mohs, fifth, 50.2;
800-meter relay: Voss, Nic Glenz, Luke Trees, Josh Trees, third, 136.4;
1,600-meter relay: Travis Flanders, Korman, Andrew Jones, Rausch, second, 3:42.4;
3,200-meter relay: Ryan Flanders, Korman, Pearson, Tom Flannigan, third, 9:14;
Discus: Josh Bork, fourth, 119' 9"; Steve Flint, sixth, 114' 2";
Shot put: Flint, second, 43' 10.25"; Bork, fifth, 39' 2.5";
Long jump: John Brady, fifth, 17' 11";
High jump: Luke Trees, first, 6' 4";
Triple jump: Jones, fourth, 36' 6"; Ryan Whitcomb, sixth, 35' 2";
Pole vault: Smith, sixth, 10'; Glenz, eighth, 8' 6".

---