Amateur teams ready for baseball season
This article submitted by Michael Jacobson on 4/25/01.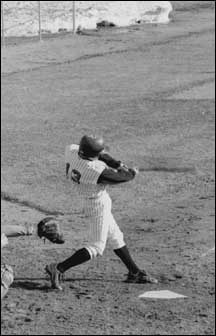 The calendar says itŐs time for amateur baseball again, even if the actual weather corresponds more to winter than spring. The lingering winter weather, despite what the calendar calls for, looks to delay a promising amateur season, in which local teams look to build on last yearŐs successes or bounce back from its disappointments.

The first round of games in the Stearns County League, scheduled for last weekend, were postponed. Both Stearns and the County Line League are scheduled to play this weekend.

Lake Henry Lakers
A year after earning their first state tournament berth in a quarter century, the Lake Henry Lakers will once again field a team full of young talent.

The Lakers won the regional tournament hosted in Lake Henry and made their first state tournament appearance since 1975. That appearance only lasted one game, but that was the only negative to an exciting end of the season for the Lakers.

Now the team is looking to repeat that success. The team's goals are to win the league, win the regions again, and advance to state, according to manager Tom Ludwig. Maybe even make more than a cameo appearance, and win some games at state.

The experience gained from last season's success should help the team this year, Ludwig expects. Also, the depth of the team and the pitching staff should be key to the team's winning chances.

Ryan Wuertz is one of the leaders on the mound and at bat. He clubbed 17 home runs for the Lakers, who managed 55 as a team playing in the cozy confines of the Lake Henry ball park. Nine players hit at least three home runs for the Lakers a year ago.

Logging the most outs on the mound a year ago were Roger Wuertz and Mike Stalboerger, who both pitched in college.

The Lakers increased their depth by the addition of five players, including possible starters Jeff Schmitz and Ben Bork.

For the Lakers to earn a return trip to state, the young talent on the team has to continue to perform. Ludwig said the keys to a successful season were if the team could play solid defense, play unselfishly, and hit throughout their lineup.

Manager: Tom Ludwig
2000 Record: 15-8
Returning roster: Ryan Wuertz (P-1B-2B), Roger Wuertz (P-3B), Mike Stalboerger (P-1B-3B), Jon Lieser (C-SS), Doug Fuchs (SS-2B), Chad Spanier (OF), Herb Weidner (OF), Jeff Olmscheid (OF), Scott Klaphake (IF), Tyler Wuertz (P-IF), Adam Miller (1B).
Lost players: Steve Lieser (to St. Martin) and Jesse Lieser.
New players: Jeff Schmitz (from St. Martin), Ben Bork, Corey Wendlandt, Nick Stalboerger, and Josh Kampsen.
Leading hitters: Ryan Wuertz (.395 AVG, 17 HR, 39 RBI), Roger Wuertz (.411 AVG, 5 HR, 13 RBI), Spanier (.313 AVG, 6 HR, 17 RBI, 12 BB), Mike Stalboerger (.343 AVG, 5 HR, 13 RBI), Tyler Wuertz (.379 AVG, 4 HR), Ludwig (.315 AVG, 3 HR, 12 RBI), Olmscheid (.303 AVG, 5 HR, 12 RBI), and Jon Lieser (.310 AVG, 3 HR).
Leading pitchers:Roger Wuertz (5-4, 5.36 ERA, 62 IP, 75 K); Mike Stalboerger (4-2, 5.37 ERA, 52 IP, 43 K), Ryan Wuertz (2-1, 5.63 ERA, 52 IP, 71 K, 36 H, 64 BB), Doug Fuchs (1-0), and Tyler Wuertz.

Roscoe Rangers
The Roscoe Rangers have yet to qualify for a regional tournament, but the more immediate goal for this year's squad is to get back into the playoffs. The Rangers missed the playoffs last year with a 4-9 record in the southern division of the Stearns County League.

Manager Rick Mackedanz expects pitching and defense to be the team's strength in 2001. Both of these, along with some timely hitting, should help the Rangers win more close games.

On the hill, the Rangers will lead with the 1-2 brother combination of Brent and Greg Heinen. Brent had three wins last year, and Greg had three saves. They combined to strike out 69 hitters in 97 innings of work.

The Rangers offense will revolve around the power hitting of veteran infielder Tony Orbeck, who hit .427 last year with seven home runs and 23 RBI. Greg Heinen hit .368 and led the team with nine doubles.

One question mark for the Rangers will be how much veteran outfielder Jeff Welle plays with the team this year. He hit .422 last year, but may not play a full schedule in 2001.

Manager: Rick Mackedanz
2000 Record: 6-13
League: 4-9
Returning roster: Brent Heinen (P-OF), Greg Heinen (P-SS), Mike Heinen (C-IF), Brian Mackedanz (OF), Dale Mackedanz (OF), Justin Mackedanz (P-IF-OF), Rick Mackedanz (1B), R.J. Leyendecker (C-OF), Todd Leyendecker (IF-OF), Tony Orbeck (P-IF), Randy Rothstein (1B-OF), Lee Schleper (1B), Chris VanderBeek (P-IF), Jeff VanderBeek (OF), Jeff Welle (OF), Mark Winter (OF), and Ken Winter (1B-OF).
New players: Russ Leyendecker.
Leading hitters: Orbeck (.427 AVG, 7 HR, 23 RBI, .773 SLG), Welle (.422 AVG, 10 BB, .564 OBP), Greg Heinen (.368 AVG, 9 2B, 11 BB), Chris VanderBeek (.320 AVG), Mark Winter (4 HR, 11 RBI), Lee Schleper (3 HR, 12 RBI), and Brian Mackedanz (.300 AVG).
Leading pitchers: Brent Heinen (3-3, 5.25 ERA, 48 IP, 32 K), Greg Heinen (1-4, 4.79 ERA, 47 IP, 37 K, 3 SV), Rick Mackedanz (3.60 ERA, 10 IP).

St. Martin Martins
In 1999, the Martins played on a tear throughout their league schedule, but an expected repeat in 2000 never materialized. The team suffered injuries, struggled to find their hitting strokes of the previous year, and managed just a 6-7 mark in league.

Now the talented team hopes a fresh start will get them back to their winning ways.

New manager Carl Lieser, who takes over for Tom Beier, thinks the team will play good defense and benefit from a healthy Ken Arceneau on the mound. They need some clutch hitting and to stay healthy to duplicate their successes of 1999.

Three Martins were drafted and played for Lake Henry in last year's state tournament: Arceneau, Sam Rothstein, and Jake Thelen. The Lakers elected to use Rothstein as their starting pitcher at state to make use of his arm and his bat. He won two playoff games for the Lakers last year, and he led the Martins last year with a .429 average, eight homers, and 35 RBIs.

St. Martin and Lake Henry swapped players over the off-season. Jeff Schmitz moved to Lake Henry, Steve Lieser moved to St. Martin, and both players opted to suit up for their town.

Manager: Carl Lieser
2000 League Record: 6-7
Returning roster: Ken Arceneau (P-OF), Jim Arceneau (C-IF), Carlton Hennen (IF), Craig Hennen (OF), Carl Lieser (IF), Chad Rothstein (P-OF), Luke Rothstein (P-IF), Sam Rothstein (P-OF), TIm Schaefer (IF), Jake Thelen (C-IF), Jim Lieser (OF), Joe Winter (C), Dave Schaefer (OF), Nathan Schlangen (IF), and Greg Kalthoff (OF).
New players: Steve Lieser (from Lake Henry).
Lost players: Jeff Schmitz (to Lake Henry), James Burg (to Greenwald).
Leading hitters: Sam Rothstein (.429 AVG, 8 HR, 9 2B, 12 SB, 35 RBI), Schlangen (.350 AVG, 23 R, 20 RBI, 9 SB, 11 BB), Jim Arceneau (.348 AVG, 30 R, 15 RBI), Luke Rothstein (.326 AVG, 4 HR, 25 RBI, 20 R, 9 SB), Ken Arceneau (.313 AVG, 25 R, 18 RBI), and Lieser (.304 AVG).
Leading pitchers: Ken Arceneau, Chad Rothstein, Luke Rothstein, and Sam Rothstein.

Paynesville Pirates
The Paynesville Pirates enjoyed a winning season in 2000, posting a 10-8 record, and hope to continue their winning ways in 2001.

The Pirates' hitting will be their team strength, according to manager Dale Hess. The Pirates return with their lineup intact and a group of players who should be reaching their primes.

For the Pirates to be successful, the team will need not only to hit, but to hit in clutch situations, said Hess. They also need quality pitching.

Leading the returning pitching staff are former collegiate players Dan Starken and Jason Schlecht. Shannon Olmscheid, Chris Stanley, and Jeremy Reiter could also log innings for Paynesville.

Dave Hemmesch, who is returning to the team, and Nathan Schutz , who is new to the team, can pitch as well.

Manager: Dale Hess
2000 Record: 10-8
Returning roster: Aaron Beier (1B), Dan Starken (1B), Shannon Olmscheid (2B), Jason Schlecht (2B), Chris Soine (3B), Pat Mohs (SS), Chris Stanley (OF), Darren Michaelis (OF), Steve Barten (OF), Jeremy Reiter (OF), Josh Williams (C).
Lost players: Aaron Ziemer.
New players: Dave Hemmesch and Nate Schutz.
Leading pitchers: Starken, Schlecht, Olmscheid, Stanley, and Reiter.

Regal Eagles
The Regal Eagles return a core of state tournament veterans that should form a potent hitting lineup once again. Without their staff ace, though, the team will need to find a steady source of quality pitching innings.

Pitcher Mike Beier, who will play for Granite Falls this year, closer to his home, is one of two notable absences on the Regal roster. The other is power hitting Ron Fuchs, who retired.

Still, the Eagles - with a lineup full of former collegiate players - should score runs. They just need to find ways to keep their opponents from scoring.

Winter led the Stearns County League in ERA two seasons ago before switching to Regal, and Von Eschen has been a solid performer since joining Regal from Belgrade. They and Glenz will need to pick up the pitching load left by Beier.

"The season will probably come down to if we can get some good pitching and play good defense," said manager Randy Beier.

Manager: Randy Beier
Returning roster: Brad Deyak (1B), Randy Beier (SS), Jeff Deming (3B), Brad Lieser (C), Tim Haines (OF), Mike Tangen (OF), Dave Zaeska (2B), Nathan Winter (P), Wade Von Eschen (P), and Jeremy Glenz (P).
New players: Scott Mueller and Scott Braun.
Lost players: Ron Fuchs and Mike Beier.
Leading hitters: Haines (.425 AVG 11 HR), Lieser (.300 AVG 12 HR), Deming (.350 AVG), Deyak (.300 AVG).
Leading pitchers: Winter, Von Eschen, and Glenz.
---