The Paynesville boys' track team placed second at their eight-team home meet on Monday, April 14. The Dogs were beaten by St. Cloud Cathedral but defeated ACGC and NL-S to take second.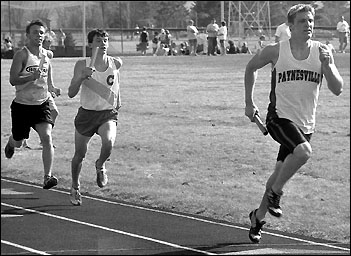 Coach Darrel Carstens was pleased with the team's results. "We had some great performances against the best Class A schools in the area," said Carstens. "We will need to improve, but this was a big step in the right direction."
The Bulldogs won three events, including two by junior Lee Fuchs-Thielen. He won the 100-meter dash and the long jump, took second in the triple jump, and ran a leg on the 400-meter relay that placed third.
Senior Milan Virant runs a leg on the Bulldogs' winning 3,200-meter relay. Other relay members were seniors Tommy Flannigan and Riley Flanders and junior Chad Wyffels.
The Dogs' 3,200-meter relay team - seniors Riley Flanders, Tommy Flannigan, and Milan Virant and junior Chad Wyffels - also placed first.
Other runner-up finishes were recorded by Flanders in the mile run and senior Adam Leyendecker in the discus. Third place winners were Virant in the 400-meter run, Flannigan in the 800-meter run, senior Ryan Glenz in the shot put, ninth grader Aaron Bachman in the pole vault, and the 400-meter and 1,600-meter relay teams.
In all, the Bulldogs placed in the top five 19 times.
Carstens was pleased with the team's improvement, including a number of personal bests.
This week, the Bulldogs will host another home meet on Thursday at 4:30 p.m. at the high school track. They also will compete at a meet at BBE on Tuesday, April 29.
Team Scores
1. St. Cloud Cathedral 143.5
2. Paynesville 130
3. Atwater-Cosmos-Grove City 125
4. New London-Spicer 114
5. LPGE 78.5
6. Holy Trinity 38
7. Maple Lake 37.5
8. EV-W/Kimball 11.5
Individual Results
110-meter hurdles: Scott Millner, fourth, 18.8; Ryan Glenz, fifth, 19.2;
300-meter hurdles: Chad Wyffels, fourth, 45.0;
100-meter dash: Lee Fuchs-Thielen, first, 11.5;
200-meter dash: Milan Virant, fifth, 24.5;
400-meter dash: Virant, third, 52.8;
800-meter run: Tommy Flannigan, third, 2:12.1;
1,600-meter run: Riley Flanders, second, 4:53.4;
3,200-meter run: Matt Mehr, eighth, 11:46.1;
400-meter relay: Lee Fuchs-Thielen, Glenz, Troy Fuchs-Thielen, and Josh Teicher, third, 47.6;
800-meter relay: Millner, Teicher, Keith Klein, and Greg Price, eighth, 1:44.9;
1,600-meter relay: Wyffels, Flannigan, Teicher, and Flanders, third, 3:42.4;
3,200-meter relay: Virant, Flannigan, Wyffels, and Flanders, first, 8:55.4;
Discus: Adam Leyendecker, second, 116' 3"; Josh Binsfeld, fourth, 95' 7"; Glenz, sixth, 92' 1";
Shot put: Glenz, third, 37' 8"; Leyendecker, sixth, 35' 5 1/2";
Long jump: Lee Fuchs-Thielen, first, 20' 5"; Troy Fuchs-Thielen, 18' 11 1/2";
Triple jump: Lee Fuchs-Thielen, second, 39' 5";
Pole vault: Aaron Bachman, third, 10' 6"; Troy Fuchs-Thielen, fourth, 10' 6".
---
Contact the author at editor@paynesvillepress.com • Return to Sports
Home | Marketplace | Community
---