On a double tie-breaker, LPGE edged the Bulldogs boys' golf team for fourth place at a conference meet at Sauk Centre last week.

In the opening meet for the West Central Conference North, played in beautiful weather on Tuesday, April 13, the Thunder and the Dogs tied with a top-four total of 180. Both LPGE and Paynesville had 49s as fifth scores, the first tie-breaker, pushing the tie to the sixth finisher, where LPGE prevailed.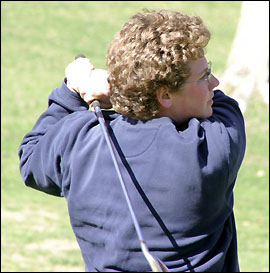 Despite losing the tie-breaker, the Dogs showed improvement again from last year, finishing within 11 shots of third place and having five golfers break 50.
Albany won the meet with a total of 157, having the medalist and two other golfers shooting rounds in the 30s and averaging rounds of 39 for their top four golfers. Host Sauk Centre was second with a team total of 161.
Sophomore Ross Barten led the Dogs at Sauk Centre, firing a round of 42 and placing eighth.
Sophomore Ross Barten led the Bulldogs with a round of 42 at the town course in Sauk Centre. He tied for eighth at the meet.
Junior Mitchell Mackedanz was next for the Bulldogs with a round of 43, tying for 12th individually.
Sophomore Justin Bork (47) and seventh grader Zach Fuchs (48) finished the Bulldogs' four-man score. Junior Cody Flanders (49) was fifth for the Dogs, and senior Nick Nelson and ninth grader Cody Burr both shot 57s.
The team can golf better, according to coach Todd Knudsvig, who had higher expectations for the team at their first conference meet. "Part of it may have been nerves for some of the guys golfing in their first conference meet," he said.
This week, the Bulldogs played in their second conference meet at St. Cloud on Monday. They will also play at Melrose on Thursday, and they will host a conference meet next week on Tuesday, April 27, at Koronis Hills, starting at 4:30 p.m.
Team scores
1. Albany 157
2. Sauk Centre 161
3. St. Cloud Cathedral 169
4. LPGE 180
5. Paynesville 180
6. Melrose 189
Individual Results
Paynesville - Ross Barten (8) 42; Mitchell Mackedanz 43; Justin Bork 47; Zach Fuchs 48; Cody Flanders 49; Cody Burr 57; Nick Nelson 57.
---
Contact the author at editor@paynesvillepress.com • Return to Sports
Home | Marketplace | Community
---