The Bulldogs softball team swept ACGC and New London-Spicer at their home tourney on Saturday morning, claiming their tourney title for the second straight year and pushing their season-opening winning streak to four games.

The Bulldogs beat New London-Spicer in five innings 12-0 and ACGC 8-5 in the championship game on Saturday, raising their season record to 4-0.

Against NL-S, the Dogs used a 13-hit attack to score 12 runs in four times at bat. Every hitter in the Dogs' lineup had a hit and either drove in a run or scored one.

The Dogs scored an unearned run in the bottom of the first inning on two NL-S errors but then got their bats rolling. Senior Amber Chevalier delivered an RBI double, senior Kim Hess had a two-run double, and senior Kayla Mackedanz had an RBI single in the second inning. Senior Ashley Karger had an RBI single, and senior Ashley Spanier had a two-run single in the third. And Karger had a two-run double, and Hess had an RBI single in the fourth.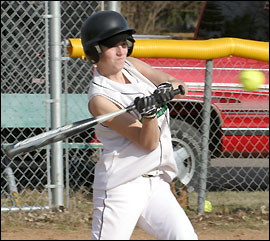 Hess had three hits and three RBIs for the Dogs. Karger had two hits and three RBIs, and sophomore Chelsey Kalkbrenner had two hits and scored three runs to lead the Dogs' offensive attack against NL-S.
Senior Amber Chevalier pitched a five-inning shutout against NL-S, allowing only two hits and only two baserunners for the Wildcats.
Senior Ashley Karger had five hits and five RBIs in three games last week for the Bulldogs. The softball team scored 29 runs on 34 hits in their three wins last week.
Against ACGC, the Dogs broke a 4-4 tie with three runs in the bottom of the fourth. Hess had an RBI triple, Spanier an RBI single, and Callenius an RBI double in the winning rally, leading to the Dogs 8-5 victory.
Callenius earned the pitching win against ACGC, going four innings in relief of Chevalier. Callenius induced an inning-ending double play in the third inning and then allowed only one run in four innings despite walking six. She left six ACGC baserunners stranded on base.
ACGC scored a run in the top of the sixth, but the Dogs got it back in the bottom of the inning as Mackedanz singled, stole second, and advanced to third and scored on two ground outs.
The Dogs had taken a 4-0 lead against the Falcons with a four-run first inning. Mackedanz and Karger had RBI singles in that rally. The Dogs played error-free defense in both tournament games.
Coach Tim Woehler said the team has really hit the ball well this spring, has run the bases very well, played good defense (with a few exceptions), and had its pitchers throw strikes for the most part.
The Dogs also had games scheduled last week against Rockford and Albany, but these were postponed due to rain.
This week, the Dogs (4-0 overall, 1-0 in the WCC North) played Melrose on Tuesday. They will host Rockford on Friday. Next week, they will play at Albany on Monday, April 25, and will play at LPGE on Tuesday, April 26.
| | | | | | | |
| --- | --- | --- | --- | --- | --- | --- |
| NL-S-- | 000 | 00x | x | - 0 | 2 | 3 |
| Paynesville-- | 144 | 3xx | x | - 12 | 13 | 0 |
Paynesville - Batting: Kim Hess 3-4 2B RBI-3 R-2 SB; Chelsey Kalkbrenner 2-2 R-3; Ashley Karger 2-3 2B RBI-3 R; Ashley Spanier 1-3 RBI-3 R SB; Kayla Mackedanz 1-3 RBI; Val Callenius 1-3 R; Amanda Skalicky 1-2 R-2 SB; Allyson Klenke 1-2 R; Amber Chevalier 1-3 2B RBI-2 R; Pitching: (ip-h-r-er-bb-k) Chevalier (W) (5-2-0-0-0-2).
| | | | | | | |
| --- | --- | --- | --- | --- | --- | --- |
| ACGC-- | 031 | 001 | 0 | - 5 | 9 | 1 |
| Paynesville-- | 400 | 301 | x | - 8 | 10 | 0 |
Paynesville - Batting: Skalicky 2-4 RBI-2 SB; Karger 2-3 RBI; Hess 1-4 3B R-2 RBI SB-2; Spanier 1-2 R-2 RBI SB-2; Mackedanz 1-3 R-2 RBI SB; Callenius 1-3 2B RBI-2 R; Kalkbrenner 1-3; Jess Engler 1-3; Pitching: (ip-h-r-er-bb-k) Chevalier (2.1-7-4-4-0-0); Callenius (W) (4.2-2-1-1-6-0).
Paynesville 9, Cathedral 8
The Bulldogs earned their first conference victory with a come-from-behind 9-8 win at Cathedral on Thursday. The Dogs scored three runs in the top of the ninth to win.
Junior Amanda Skalicky led off the ninth inning with a single, junior Allyson Klenke followed with a walk, and senior Kim Hess delivered an RBI single to score Skalicky with one out. Senior Ashley Spanier singled to load the bases, and Klenke and Hess scored the winning runs on a ground out.
The Dogs had led 6-1 before the Crusaders scored two runs in the fifth inning and five unearned runs - aided by two Bulldog errors - in the sixth inning.
Hess, who reached base five times with two hits and three walks, scored in the first inning to give the Dogs a 1-0 lead. In the third, sophomore Kristin Lang and senior Ashley Karger had RBI singles to extend that lead to 3-0.
Then, in the top of the fifth, Skalicky had a two-run double, advanced to third on a passed ball, and scored on a sacrifice by Klenke, giving the Dogs a short-lived 6-1 lead. Senior Leah Spanier pitched four innings, allowing only one run. Senior Val Callenius got the pitching win in relief.
It is the first time the Dogs have beaten the Crusaders at Cathedral since Woehler started coaching, he said. Whether the Dogs ever did so previously is unknown.
| | | | | | | |
| --- | --- | --- | --- | --- | --- | --- |
| Paynesville-- | 102 | 030 | 3 | - 9 | 11 | 3 |
| Cathedral-- | 001 | 025 | 0 | - 8 | 8 | 0 |
Paynesville - Batting: Ashley Spanier 3-4 R; Hess 2-2 R-3 RBI BB-3 SB; Kristin Lang 2-3 RBI-2 R; Amanda Skalicky 2-4 2B R-2 RBI-2; Amber Chevalier 1-3; Ashley Karger 1-3 RBI; Pitching: (ip-h-r-er-bb-k) Leah Spanier (4-2-1-1-2-1); Val Callenius (W) (3-6-7-2-1-2).
---
Contact the author at editor@paynesvillepress.com • Return to Sports
Home | Marketplace | Community
---