Senior Mitchell Mackedanz shot an even-par round of 37 at the Sauk Centre Country Club on Tuesday, April 12, earning medalist honors for the second time in as many meets this spring.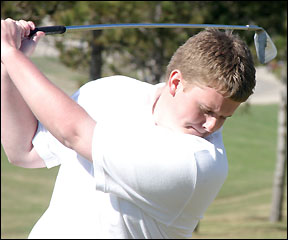 Mackedanz topped Jordan Priem of LPGE by one stroke and Bjorn Hanson of LPGE by two strokes. LPGE won the team event with a four-golfer total of 162. Mackedanz had two birdies, five pars, and two bogeys for his even-par round.
Senior Mitchell Mackedanz was the medalist for the second meet in a row, shooting an even-par round of 37 in a conference meet at Sauk.
The Bulldogs tied with Melrose with 176, but the Dutchmen won the tiebreaker, relegating the Dogs to a sixth-place finish. The tight meet - all six teams were within 14 strokes despite the cool, breezy weather - had the Dogs six strokes from fourth, seven from third, and ten from second.
Eighth grader Zach Fuchs shot 43 for the Dogs, and senior Cody Flanders carded a 46.
But the other four scores for the Dogs were all in the 50s. Melrose won the tiebreaker with a 48 by their fifth golfer.
This week, the Dogs played their second conference meet in St. Cloud on Monday. They will play at Melrose in a nonconference meet, and they will play in a tournament at Minnewaska on Saturday.
Next week, the Dogs will host a conference meet at Koronis Hills on Tuesday, April 26, starting at 4:30 p.m.
Team Scores
1. LPGE 162
2. Sauk Centre 166
3. Cathedral 169
4. Albany 170
5. Melrose 176
6. Paynesville 176
Individual Results
Paynesville - Mitchell Mackedanz (1) 37; Zach Fuchs 43; Cody Flanders 46; Ross Barten 50; Justin Bork 51; Matt Fuchs 54; Tyler Wendroth 56.
---
Contact the author at editor@paynesvillepress.com • Return to Sports
Home | Marketplace | Community
---