The Bulldogs girls' track team won their Paynesville Invite and their third consecutive meet last week. In a 40-point victory over Glencoe-Silver Lake, the Dogs went three for three this season, besting six teams with 173 points.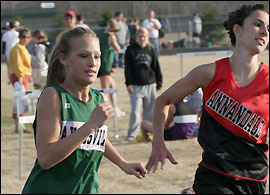 "This was an outstanding performance by the girls' track team. We scored 111 points in the running events and had 62 points in our field events," said coach Dave Randgaard. "We had two places in all field events except triple jump."
Ninth grader Bri Jaeger set a personal best in winning the 400-meter run on Monday, April 11, as the Dogs won the Paynesville Invite.
In the first event, junior Tanis Beireis, ninth grader Erin Guzy, sophomore Natalie Leadem, and junior Kacy Nehowig carried the 3,200-meter relay to first place in 10:57, giving Paynesville the early lead in the meet.
The Dogs also had two other individual event champions and had 28 placewinners in all.
Senior Tara Schmidt's endeavors proved triumphant as she won the long jump with a leap of 15' 2" and placed second in both the 100- and 200-meter dashes. Also, her 800-meter relay team placed third.
Ninth grader Bri Jaeger won the 400-meter dash with a personal-best time and also place fourth in the 200-meter dash with another personal best, as well as finishing third in the 100-meter dash.
Ninth grader Anna Kotten also achieved two personal best times, placing second in both the 100- and 300-meter hurdles. Additionally, Kotten placed third in the pole vault and fourth in the high jump.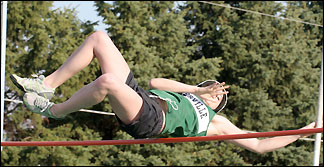 Placing in three individual events were sophomore Kaitlyn Frenchick, junior Randi Schaefer, and ninth grader Kally Felling. Frenchick took second in the 800-meter run, achieving a personal best; took third in the triple jump, and third in the 1,600-meter run, as well as helping her 1,600-meter relay team take fourth. Schaefer placed second in the high jump; third in the shot put; and fourth in the discus, and her 400-meter relay team placed sixth. Felling took fourth in the 400-meter dash and had placed seventh in the 200-meter dash and long jump.
Junior Tanis Beireis cleared the bar during a pole vault on her way to placing second in the event last week by vaulting eight feet. She also placed fifth in the 3,200-meter run for the Bulldogs at their first home meet on Monday, April 10.
Beireis placed in two indivizdual events, taking second in the pole vault with a personal best of 8' 0" and fifth in the 3,200-meter run.
Placing in one individual event were Nehowig, who took third in the 3,200-meter run; Leadem, who took fifth in the shot put; and junior Kirsten Miller, who took eighth in the 300-meter hurdles.
"We performed really well in front of our home crowd, and the girls really supported each other in a positive manner," added Randgaard.
The Bulldogs raced again in Albany on Tuesday, April 18, and will compete in Clara City on Thursday, April 20, instead of at Willmar. Next week, they will travel to Long Prairie for a meet on Tuesday, April 25.
Team Scores
1. Paynesville 173
2. Glencoe-Silver Lake 133
3. Annandale 93
4. EV-W/Kimball 91
5. Maple Lake 89
6. Minnewaska 58
7. Melrose 57
Individual Results
100-meter hurdles: Anna Kotten, second, 18.1 (personal best);
300-meter hurdles: Kotten, second, 51.9 (personal best); Kirsten Miller, eighth, 54.7 (personal best);
100-meter dash: Tara Schmidt, second, 13.7; Bri Jaeger, third, 13.8;
200-meter dash: Schmidt, second, 27.7 (season best); Jaeger, fourth, 28.1 (personal best); Kally Felling, seventh, 29.3;
400-meter dash: Jaeger, first, 1:01.8 (personal best); Felling, fourth, 1:04.9 (season best);
800-meter run: Kaitlyn Frenchick, second, 2:34 (personal best);
1,600-meter run: Frenchick, third, 5:46.7 (season best);
3,200-meter run: Kacy Nehowig, third, 12:41; Tanis Beireis, fifth, 14:00;
400-meter relay: Kacie Wander, Randi Schaefer, Krista Topp, and Miller, sixth, 56.4;
800-meter relay: Miller, Stacy Orbeck, Felling, and Schmidt, third, 1:56.2;
1,600-meter relay: Frenchick, Topp, Janice Boeck, and Natalie Leadem, fourth, 4:44.2;
3,200-meter relay: Beireis, Guzy, Leadem, Nehowig, first,10:57 (season best);
Discus: Schaefer, fourth, 90' 1";
Shot put: Schaefer, third, 29' 9"; Leadem, fifth, 29' 1";
High jump: Schaefer, second, 4' 8"; Kotten, fifth, 4' 4";
Long jump: Schmidt, first, 15' 2"; Felling, seventh, 14' 1/2";
Triple jump: Frenchick, third, 30' 5";
Pole vault: Beireis, second, 8' 0" (personal best); Kotten, third, 8' 0".

---
Contact the author at editor@paynesvillepress.com • Return to Sports
Home | Marketplace | Community
---