The Bulldogs boys' track team recorded their best finish of the season so far, placing fourth at their home meet on Monday, April 10.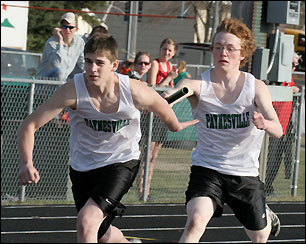 Glencoe-Silver Lake won the meet handily with over 200 points, followed by Annandale (143), Melrose (123), and Paynesville (96.5). The Bulldogs beat Eden Valley-Watkins/Kimball (52), Maple Lake (43.5), and Minnewaska (20.5).
The Dogs' point total (96.5) is the most they have had all spring and more than they scored at any regular meet last year, though they scored 94 points last year to place third at Melrose.
Junior Bryce Fischbach, right, hands the baton to Junior Aaron Burris, left, during the 800-meter relay at the Paynesville Invite on Monday, April 10. The Dogs' 800-meter relay finished second at the meet.
"We went from losing to EV-W/K by 1.5 points to beating them by 44.5 points," said coach Todd Spanier. "It was a true team effort with many people finding themselves in the top eight. We scored in all but two events, and those were two events where we usually score but the competition was really strong."
The Dogs had 24 placers in the meet and its relay teams finished second (800-meter relay), third (400-meter relay), fifth (3,200-meter relay), and sixth (1,600-meter relay), showing the team's increased depth this year with more than two dozen athletes. Last year, the team struggled to fill its relay lineups.
Last week, the Dogs were paced by senior Aaron Bachman winning the pole vault, junior Dugan Flanders winning the 3,200-meter run, and junior Matt Hansen, sophomore Alex Svejkovsky, and ninth grader Nathan Friederichs placing in four events.
Bachman cleared 11' to win the pole vault, which was the Dogs' best event with Friederichs tying for third (clearing 9') and ninth grader Travis Jimenez tying for sixth (clearing 8').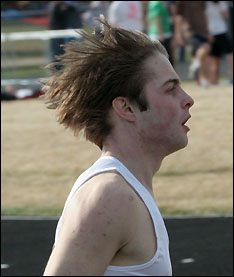 Flanders won the 3,200-meter run, running what Spanier called a great race. "He started at his pace, running the first half of the race in fourth, and moved his way up, finally taking the lead with a little over a lap to go and didn't look back," said Spanier.
Ninth grader Jamison Wall also finished sixth in the 3,200.
Hansen, in his first track meet this spring, placed in four events, three individual events and a relay. Both Friederichs and Svejkovsky also placed in three individual events and one relay.
Junior Dugan Flanders continued his strong start to the season, winning the 3,200-meter run during the Paynesville Invite last week.
Hansen finished third in the 100-meter dash (just a tenth of a second out of second, noted Spanier); fifth in the 200-meter dash; and seventh in the long jump. He also ran a leg on the 400-meter relay, which finished third.
Friederichs placed second in the high jump, clearing 5' 6"; tied for third in the pole vault; and ran seventh in the 800-meter run. He also ran a leg on the 3,200-meter relay - along with Flanders, Wall, and ninth grader Kody Nehowig - that placed fifth.
Svejkovsky, showing his speed and strength, placed sixth in the 200-meter dash, sixth in the discus, and eighth in the shot put. He also ran the anchor leg on the 800-meter relay - along with junior Bryce Fischbach, junior Aaron Burris, and senior Tom Stoneburner - that finished second.
The Dogs' 400-meter relay - junior Curt Forster, Hansen, Jimenez, and Fischbach - placed third.
Fischbach, Jimenez, and Stone-burner each placed in three events, with Jimenez (seventh in the 110-meter hurdles and sixth in the pole vault) and junior Travis Flannigan (fifth in the triple jump and eighth in the high jump) placing in two individual events each.
Spanier praised Jimenez and ninth grader Mitch Marlow, both hurdling for the first year, for placing seventh and eighth respectively in the 110-meter hurdles against tough competition.
This week, the Dogs competed at Albany on Tuesday. On Thursday, the Dogs will travel to Clara City for the MACCRAY Meet, instead of going to Willmar as originally scheduled. Next week, the Dogs will travel to Long Prairie for the LPGE Meet on Tuesday, April 25.
Team Scores
1. Glencoe-Silver Lake 207.5
2. Annandale 143.0
3. Melrose 123.0
4. Paynesville 96.5
5. EV-W/Kimball 52.0
6. Maple Lake 43.5
7. Minnewaska 20.5
Individual Results
110-meter hurdles: Travis Jimenez, seventh, 20.3; Mitch Marlow, eighth, 20.3;
300-meter hurdles: No placers;
100-meter dash: Matt Hansen, third, 12.4;
200-meter dash: Hansen, fifth, 24.6; Alex Svejkovsky, sixth, 25.3;
400-meter dash: Tom Stoneburner, sixth, 59.4;
800-meter run: Nathan Friederichs, seventh, 2:18.4;
1,600-meter run: No placers;
3,200-meter run: Dugan Flanders, first, 11:19.2; Jamison Wall, sixth, 11:52;
400-meter relay: Curt Forster, Hansen, Jimenez, and Bryce Fischbach, third, 48.3;
800-meter relay: Fischbach, Aaron Burris, Stoneburner, and Svejkovsky, second, 1:42.7;
1,600-meter relay: Marlow, Kody Nehowig, Stoneburner, and Forster, sixth, 4:05;
3,200-meter relay: Friederichs, Nehowig, Wall, and Flanders, fifth, 9:20;
Discus: Svejkovsky, sixth, 101' 11 1/2";
Shot put: Svejkovsky, eighth, 37';
High jump: Friederichs, second, 5' 6"; Travis Flannigan, eighth, 5' 2";
Long jump: Hansen, seventh, 16' 10"; Fischbach, eighth, 16' 8";
Triple jump: Flannigan, fifth, 35' 3"; Burris, sixth, 35' 3";
Pole vault: Bachman, first, 11'; Friederichs, third, 9'; Jimenez, sixth, 8'.
---
Contact the author at editor@paynesvillepress.com • Return to Sports
Home | Marketplace | Community
---