Softball team wins in extra innings
This article submitted by Jenny Habben on 4/19/00.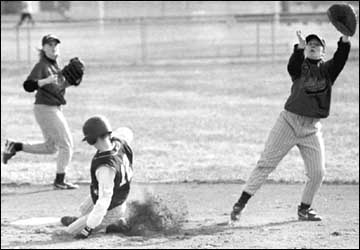 The softball team won 7-6 on Thursday, April 13, over Sauk Centre. The Bulldogs had a great game on defense with the team only having three errors.

Sauk Centre came out strong in the beginning of the game by scoring one run in the first inning.

In the Bulldogs' third inning, Melody Veldkamp stole second base. Veldkamp advanced on Jessie Louis' ground out, and then scored on a wild pitch to tie the game at 1-1.

Sauk Centre scored another run in the fifth inning. Paynesville did not answer back with any runs.

A Sauk Centre baserunner steals second as Lisa Hemingson and Jenny Habben move in for defense.

In the sixth inning, Sauk Centre scored three more runs. But Paynesville also stepped up in the sixth inning with Kelly Loesch, Laurie Barten, Crystal Humbert, and Veldkamp all scoring to tie the game at 5-5.

There was no scoring in the seventh inning, so the game went into extra innings.

Sauk Centre was able to get a run in and the Bulldogs knew that they had to score two runs to win the game.

Louis reached first base on an error and pinch runner, Christina Hittle, tied the game at 6-6. Tiff Haag hit a single. Lisa Hemingson was hit by the pitcher. Trish Hemmesch got a single to load the bases, and Laurie Barten drew a walk to bring in Loesch with the winning run.

Coach Tim Woehler said, "I was extremely pleased with the way the girls battled back every time we were down and came through when it counted. I couldn't be prouder of the girls."

Coach Woehler also went on to say, "We played with more poise today, and I look for us to improve steadily throughout the season. It was great to get the first win."

The softball games on April 11 against LPGE, and April 14 against NLS were postponed due to the weather.
| | | | | | | |
| --- | --- | --- | --- | --- | --- | --- |
| Sauk Centre-- | 100 | 013 | 01 | - 6 | 5 | 1 |
| Paynesville-- | 001 | 004 | 02 | - 7 | 5 | 3 |
Sauk Centre - Pitching: (ip-h-r-er-bb-k) Vogt (6-2-5-3-7-8); DeMarko (L) (2-3-2-1-4-0).
Paynesville - Batting: Haag 3-3; Hemmesch 2-3;
Runs: Veldkamp 2; Haag 1; Hittle 1; Loesch 1; Barten 1; Humbert 1;
Pitching: (ip-h-r-er-bb-k) Louis (5.2-3-3-3-3-2); Loesch (W) (2.1-2-1-0-2-1).
---