Girls take second at home
This article submitted by Maria Janotta on 4/19/00.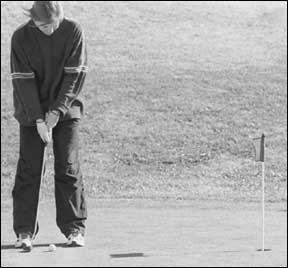 The Bulldogs kicked off their golf season on Tuesday, April 11, at Koronis Hills. Despite the cold temperatures and the snow, the girls managed to place second in this nonconference meet.

Litchfield won the meet with a total of 191. The lowest four scores for Paynesville totaled 212 for second. Kimball/Eden Valley-Watkins was third with 261.

This year, there are a total of nine girls out for golf. They consist of juniors: Katie Wright and Erin O'Fallon; sophomores: Sally Heitke, Beth Holt, and Maria Janotta,pictured;and eighth graders: Amanda Glenz, Heather Fuchs, Jena Spaulding, and Brittany Caldwell.

All nine competed with the varsity under the loose format of the first meet.

at Koronis Hills, Tuesday, April 11
Team scores- Litchfield 191; Paynesville 212; Kimball/EV-W 261.
Paynesville scores- Sally Heitke 50; Katie Wright 52; Heather Fuchs 55; Jena Spaulding 55; Erin O'Fallon 57; Maria Janotta 58; Amanda Glenz 58; Brittany Caldwell 61; Beth Holt 67. TOTAL: 212.
---