Glenz, golfers take second
This article submitted on 4/19/00.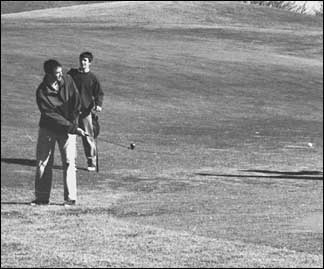 The boys' golf team took second in their first match of the season last Thursday at Melrose.

Nathan Glenz shot a 41 for Paynesville. He finished one stroke behind Jon Osendorf of Melrose, who shot 40 for medalist honors.

Melrose won with a score of 164. Paynesville was second with 186, and Osakis was third with 192.

Ryan Wall had 46 for the Bulldogs, Adam Rafferty 47, and Eric Gerding 52.

Corey Schmitt makes a pitch to the green during a practice round as Eric Gerding watches.

at Melrose, Thursday, April 13
Team scores - Melrose 164; Paynesville 186; Osakis 192.
Paynesville scores - Nathan Glenz 41; Ryan Wall 46; Adam Rafferty 47; Eric Gerding 52; TOTAL: 186.
---