Girls win first meet outdoors
This article submitted by Mandy Mayer on 4/18/01.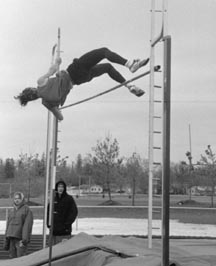 The Paynesville tracksters won their own meet on Monday, April 9. Because of the wet spring, this track meet, scheduled for Paynesville, was actually held at the tract at Atwater-Cosmos-Grove City High School in Grove City.

The Bulldogs scored 173 points to beat ACGC by 68. Paynesville had 24 placewinners, including 17 in the top three.

The Bulldogs dominated the relays, taking two firsts and a second. In the 3,200-meter relay, Danny Lieser, Brooke Schmitz, Kendra Johnson, and Leanne Kolb teamed up to take first.

Junior Heidi Jansen hands the baton to junior Amy Mueller during a relay.

The Bulldogs' winning 400-meter relay was comprised of Ranea Eastling, Heidi Jansen, Carla Hemmesch, and Joy Hemmesch. With a time of 55.24, they beat the Sauk Center squad (55.84) by just more than a half second.

The Bulldogs' 1,600-meter relay Ð Amy Mueller, Mandy Mayer, Kolb, and Johnson Ð was second.

The Bulldogs scored a lot of points in the long distance runs, winning all three races. Seventh grader Brooke Schmitz won the 800-meter run, and junior Jenny Hess won both the 1,600-meter and 3,200-meter runs.

Mayer placed third in the half mile and second in the mile for the Bulldogs. Kolb was fourth in the 800-meter run, giving the Bulldogs three placers in that event.

Junior Melissa Bachman won the pole vault by clearing 8' 6". Joy Hemmesch was fifth with 7' 6".

The Bulldogs also had three placewinners in both the 400-meter run and the discus. In the 400-meter run, Lieser took third and Mueller and Johnson tied for sixth. In the discus, Hemmesch was second, Morgan Martinson was third, and Jessica Paul was eighth.

Hannah Braun had a two great hurdle races. She placed third in both the 100-meter race and the 300-meter race.

Eastling placed second in the 100-mter dash with a time of 13.63.

The Bulldogs have a meet scheduled for tomorrow in Willmar. The starting time is 4 p.m.

Team scores
1. Paynesville -173
2. Atwater-Cosmos-GroveCity -105
3. Renville County West -92
4. Sauk Centre -71
5. Eden Valley-Watkins/Kimball- 51
6. Glencoe-Silver Lake -43
7. Litchfield -42
8. Annandale -25
9. Maple Lake -11
10. Dassel-Cokato -5.5
11. Belgrade-Brooten-Elrosa- 5

Individual Results
100-meter hurdles: Hannah Braun, third, 17.9;
300-meter hurdles: Braun, third, 52.4;
100-meter dash: Ranea Eastling, second, 13.63;
400-meter dash: Danny Lieser, third, 1:06.8; Amy Mueller, sixth, 1:07.3;
Johnson, sixth, 1:07.3;
800-meter run: Brooke Schmitz, first, 2:33.1; Mandy Mayer, third, 2:42.9;
Leanne Kolb, fourth, 2:43.1;
1,600-meter run: Jenny Hess, first, 5:15.4, Mayer, second, 6:25;
3,200-meter run: Jenny Hess, first, 11:14;
400-meter relay: Eastling, Jansen, Joy Hemmesch, Carla Hemmesch, first, 55.24;
1,600-meter relay: Mueller, Mayer, Kolb, Kendra Johnson, second, 4:34.2;
3,200-meter relay: Lieser, Schmitz, Johnson, Kolb, first,10:43.5;
Discus: Joy Hemmesch, second, 93' 1"; Morgan Martinson, third, 91' 1"; Jessica Paul, eighth, 70' 7";
Shot put: Hemmesch, second, 31' 11.5"; Jansen, fourth 30' 7";
High jump: Ashley Ahrens, third, 4' 6"; Johnson, sixth, 4' 4";
Pole vault: Bachman, first, 8' 6"; Hemmesch, fifth, 7' 6".

---