Boys second at home outdoor meet
This article submitted by Andy Jones on 4/18/01.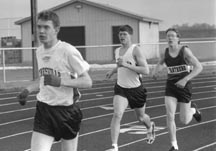 The Bulldogs were finally able to have an outdoor meet last Monday in Grove City. Paynesville was supposed to have a home meet that night, but the track in Paynesville wasn't quite ready for running.

So Paynesville hosted a meet at Atwater-Cosmos-Grove City High School in Grove City. The long and triple jump pits were not ready to be used yet, so those events were not held.

Overall, the Bulldogs took second out of 11 teams, trailing ACGC by 50 points.

The Bulldogs did not win an event, but had four runners-up, five third-place finishers, and three fourths.

Junior Scott Thompson and senior Adam Utsch took fourth and eighth for Paynesville in the 1,600 meter run.

The 3,200-meter relay was a great way to start the day. The Bulldogs had a stacked team, but so did ACGC. After opening legs by Eric Korman and Travis Flanders had the Bulldogs in second place, Clayton Lang was able to grab a small lead for the anchor runner, Dan Pearson. Pearson ran well, but was unable to keep the lead and the Bulldogs came in second.

Another highlight of the night included a great 400-meter dash race between Paynesville's Nic Glenz and former Paynesville runner Eric Rausch, who moved to Glencoe and runs for Glencoe-Silver Lake. Glenz and Rausch were teammates on the Bulldogs' 1,600-meter relay last spring that finished seventh in state.

The race was tight all of the way between these former teammates, but with about 50 meters to go Rausch pulled away from Glenz and beat him by less than a second.

Other runner-up finishes for Paynesville included Jesse Rien in the 1,600-meter run and Lang in the 3,200-meter run.

The Bulldogs - who won the state cross country title last fall - continue to dominate the distance running events. They placed 11 runners in the three individual long-distance races, including five placewinners in the 1,600-meter run: Rien (2), Scott Thompson (4), Riley Flanders (5), Ryan Flanders (7), and Adam Utsch (8).

In the 3,200-meter race, the Bulldogs took second, third, fourth, and seventh by Lang, Pearson, Rien, and Utsch respectively.

Other third place winners were Korman in the 800-meter run, the 1,600-meter relay team, Josh Trees in the high jump, and Glenz in the pole vault.

The Bulldogs have a meet scheduled for Willmar on Thursday. The meet should start at 4 p.m.

Team scores
1. ACGC -156
2. Paynesville -98.5
3. Glencoe-Silver Lake -89.5
4. Annandale -76.5
5. Litchfield -60
6. RCW -41
7. Maple Lake -26
8. BBE -22.5
9. Sauk Centre -20
10. Dassel-Cokato -19
11. EVWK -18

Individual Results
110-meter hurdles: Steve Mages, eighth, 17.9;
100-meter dash: Adam Schaefer, eighth, 12.02;
400-meter dash: Nic Glenz, second, 52.08;
800-meter run: Eric Korman, third, 2:06; Tom Flannigan, sixth, 2:16;
1,600-meter run: Jesse Rien, second, 4:57; Scott Thompson, fourth, 5:07; Riley Flanders, fifth, 5:10; Ryan Flanders, seventh, 5:13; Adam Utsch, eighth, 5:14;
3,200-meter run: Clayton Lang, second, 10:25; Dan Pearson, third, 10:50; Rien, fourth, 10:59; Utsch, seventh, 11:23;
400-meter relay: Lee Fuchs-Thielen, Schaefer, Ryan Whitcomb, Josh Trees, fourth, 48.3;
800-meter relay: Lee Fuchs-Thielen, Troy Fuchs-Thielen, Andrew Jones, Chad Wyffles, sixth, 143.3;
1,600-meter relay: Travis Flanders, Thompson, Nic Glenz, R. Flanders, third, 3:44.4;
3,200-meter relay: Travis Flanders, Korman, Pearson, Lang, second, 8:37;
High jump: Josh Trees, third, 5' 10"; Mages, eighth, 5' 2";
Pole vault: Glenz, third, 11'; Fuchs-Thielen, sixth, 9'.

---