The Bulldogs baseball team used extra-inning heroics to record their first victory of the season on Saturday at Annandale. The Dogs broke open a 3-3 tie with four runs in the top of the eighth and won 7-3.

Pitcher Adam Kampsen, who hurled a complete game, led off the eighth by reaching on an error. After senior Craig Thomes singled, Kampsen scored when senior Ryan Schneider reached on an error. Craig Thomes then scored on a groundout by Scott Thomes.

Leadoff hitter Jeremy Fuchs hit a two-run homer to close the scoring.

Kampsen allowed only three hits in getting the first pitching win of the season. Two of those hits were in the third, when the Cardinals scored all three of their runs, with the help of two bases on balls.

Following the fourth inning, Kampsen, a sophomore, retired all 13 batters he faced.

The Bulldogs took a 3-0 lead with a run in the first and two in the fourth. Senior Pat Rohe hit an RBI single to score Fuchs, who had singled, in the first inning. Kampsen singled and scored on junior Josh Krupke's double in the fourth. Krupke then scored on senior Nick Fuchs' single. (Nick Fuchs returned to action after breaking his ankle.)

The Bulldogs played error-free defense after making five errors in their season opener. The win evened the Bulldogs record at 1-1.

This week, the Bulldogs hosted New London-Spicer on Monday and Albany on Tuesday. They will play at Litchfield on Thursday at 4:30 p.m., at a tournament in Orono on Saturday, starting at 10 a.m., and will host defending state champion St. Cloud Cathedral on Monday, April 22, at 5 p.m.
| | | | | | | |
| --- | --- | --- | --- | --- | --- | --- |
| Paynesville-- | 100 | 200 | 04 | - 7 | 10 | 0 |
| Annandale-- | 000 | 300 | 00 | - 3 | 3 | 5 |
Paynesville - Batting: Jeremy Fuchs 2-5 HR R-2 RBI-2; Adam Kampsen 2-4 R-2; Josh Krupke 1-3 2B RBI R; Nick Fuchs 1-3 RBI; Craig Thomes 1-1 R; Pitching: (ip-h-r-er-bb-k) Meyer (L) (5-1-0-0-0-6).
Melrose 7, Paynesville 0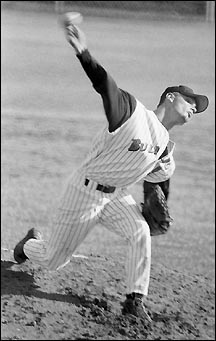 Defense let the Bulldogs down in their season opener and conference opener against the Melrose Dutchmen on Friday.
The Dutchmen, who were second in the West Central Conference North last year, scored six unearned runs and beat the Bulldogs 7-0.
The game was played at Lake Henry due to wet field conditions at the high school.
Defense was an area the Bulldogs intended to improve this year, but first-game jitters got the best of the team. "We looked scared in our first ball game," said coach Brad Skoglund, "and it showed in our defensive play. Melrose is an outstanding team."
Melrose scored all their runs with two outs, and were helped by Paynesville errors in the first, third, and fourth innings. The Dutchmen scored three in the first, thanks to three hits and one error. They scored two more in the third, with one hit and two errors. And they plated one in the fourth, without a hit, thanks to two errors.
Melrose's Keith Frieler hit a homer to right in the fifth for the only earned run of the game.
Senior Jeremy Fuchs (pictured at left) pitched well for the Bulldogs, going all seven innings and allowing only one earned run on seven hits.
The Bulldogs, meanwhile, managed only six baserunners. Senior Wes Lieser had the team's only hit, a double to left-center in the fourth inning.
| | | | | | | |
| --- | --- | --- | --- | --- | --- | --- |
| Melrose-- | 302 | 110 | 0 | - 7 | 7 | 1 |
| Paynesville-- | 000 | 000 | 0 | - 0 | 1 | 5 |
Melrose - Batting: Keith Frieler 3-4 HR 2B RBI-2 R-2; M. Terres 2-3 R-2 RBI; Eric Eveslage 1-3 R; Pitching: (ip-h-r-er-bb-k) Shawn Shoenberg (W) (4-1-0-0-1-1); Brandon Worms (S) (3-0-0-0-2-3).
Paynesville - Batting: Wes Lieser 1-3 2B; Pitching: (ip-h-r-er-bb-k) Jeremy Fuchs (L) (7-7-7-1-5-6).
---
Contact the author at paypress@lkdllink.net • Return to Sports
Home | Marketplace | Community
---