The Bulldogs girls' golf team dominated a home dual meet with ACGC last week, winning their first competitive outing of the season by 57 strokes.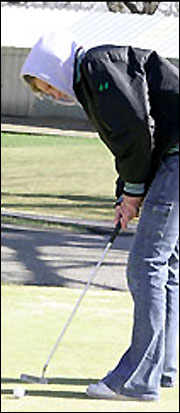 The Bulldogs, with eight golfers, had the top five scores at the meet at Koronis Hills on Monday, April 5, and six of the top eight scores. ACGC's team had only four players.
Senior Amanda Glenz shot a 41, a varsity low round for her, as the Bulldogs won their first dual.
Senior Amanda Glenz led the Dogs with a varsity-best round of 41, taking medalist honors by two strokes from senior teammate Heather Fuchs, who shot 43.
Senior Brittany Caldwell was third for the Bulldogs, and third overall, with a round of 52. Senior Jena Spaulding and sophomore Amber Jensen tied for fourth, completing the Dogs' team score, with rounds of 56.
The Bulldogs beat the Falcons 192-249. (The top four individual scores are used to comprise the team score in varsity golf.)
ACGC's top score was Morgan Wall at 57, which was only one shot better than PAHS ninth grader Marissa Mackedanz, who shot 58 in her first varsity golf outing.
This week, the Bulldogs will start their conference schedule. On Thursday, they will play at Melrose, and on Tuesday, April 20, they will play in St. Cloud at a meet hosted by St. Cloud Cathedral.
Team scores
1. Paynesville 192
2. ACGC 249
Individual Results
Paynesville - Amanda Glenz (1) 41; Heather Fuchs (2) 43; Brittany Caldwell (3) 52; Amber Jensen (4) 56; Jena Spaulding (4) 56; Marissa Mackedanz 58; Kirsten Miller 60; Trish Wendlandt 63.
---
Contact the author at editor@paynesvillepress.com • Return to Sports
Home | Marketplace | Community
---