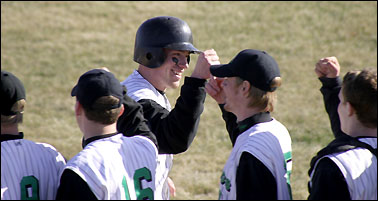 Senior Adam Kampsen hit three homeruns and pitched a no-hitter as the Bulldogs defeated Kimball 10-0 in their baseball opener last week.

Senior Adam Kampsen smiles as he receives congratulations from senior teammate Ross Jaeger and sophomore catcher John Hemingson after hitting his third homerun last week. Kampsen hit three homers to left, a two-run shot in the first, another two-run blast in the second, and a solo roundtripper in the fourth as the Bulldogs plated ten runs in only four times at bat. On the hill, Kampsen struck out 11 in five innings, allowing three walks and hitting two batters with pitches but yielding no hits.

The Bulldogs (1-0) scored four runs in the bottom of the first and four more in the second inning to take a commanding lead at home on Thursday afternoon.

In the first inning, Kampsen hit a two-run homer that landed on the junior varsity baseball field, aided by the wind blowing out to left, to start the scoring. With two outs, senior Adam Hemmesch delivered a two-run single for the Dogs.

In the second inning, Kampsen again hit a two-run homer, and then junior Mike Mueller hit a two-run double to left-center with two outs.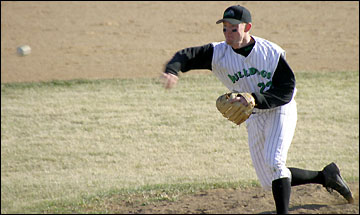 Kampsen led off the third inning with a solo homer, and junior Justin Butkofski singled and scored the Dogs' tenth run on a passed ball, invoking the ten-run rule after the top of the fifth.
Mueller had three hits for the Bulldogs, and Butkofski had two.
Senior Adam Kampsen pitches a no-hitter on Thursday, as the Dogs won their baseball opener 10-0.
The Bulldogs are rated 10th in the state in Class AA by the Minnesota State Coaches Assocation. This week, they start conference play in the West Central Conference North, which has five teams rated in the top 13 in state. Defending state champion St. Cloud Cathedral is #1, Albany is #3, Sauk Centre is #6, Paynesville is #10, and Melrose is #13. Only LPGE is not state-rated.
The Dogs will play at Albany on Thursday, April 15, at 5 p.m. They will play at Annandale on Friday, April 16, at 5 p.m. Next week, they will host Benson on Monday, April 19, at 5 p.m., and they will play at Cathedral on Tuesday, April 20.
| | | | | | | |
| --- | --- | --- | --- | --- | --- | --- |
| Kimball-- | 000 | 00x | x | - 0 | 0 | 2 |
| Paynesville-- | 440 | 2xx | x | - 10 | 10 | 0 |
Kimball - Pitching: (ip-h-r-er-bb-k) Paul Hughes (L) (4-10-10-4-0-6).
Paynesville - Batting: Adam Kampsen 3-3 HR-3 RBI-5; Mike Mueller 3-3 2B RBI-2 R; Justin Butkofski 2-3 2B R-2; Adam Hemmesch 1-2 RBI-2 SB; Jamie Paul 1-3 R SB; Pitching: (ip-h-r-er-bb-k) Kampsen (W) (5-0-0-0-3-11).
---
Contact the author at editor@paynesvillepress.com • Return to Sports
Home | Marketplace | Community
---