Having spent ten years working with troubled youth at the Willmar Regional Treatment Center, Mike Klein of Paynesville believes that working with youth in sports and other extracurriculars is "time well spent on the front end" to avoid problems later on.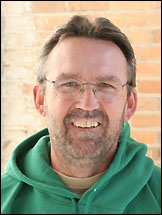 He enjoys talking to kids, just being Mike, and helping them engage in positive activities.
For his efforts of supporting youth through athletics, Klein was named the Fan of the Year by the Bulldog Booster Club on Saturday. The award came as a complete surprise, even though Klein has been an active member of the booster club for the past three months.
"I had heard some names and said, 'Yeah, they're really good fans.' They could have chosen a dozen more," said Klein, who never heard about the vote and just figured the booster club members were busy planning for the hog roast.
He had actually helped with the hog roast and ate and gone home. He was called back by basketball coach Jackie Parsley, on the pretense that he had won a big prize, which he had.
When they started to announce the Fan of the Year, it finally dawned on him. "I was surprised," he said.
Klein serves as a line judge in volleyball, a volunteer assistant coach for junior varsity softball, and helps keep book or run the scoreboard as needed for basketball.
His daughter JessiccaLee Klein, a ninth grader, plays volleyball, basketball, and softball. "If she could play football, she'd play that, too," he said. They also like to watch baseball and football.
With Jessicca in school, he has gotten to know a lot of the athletes, he said, which makes it fun to watch them compete. "They're great young people," he explained. "They've got great hearts for the game.
"They're doing their best," he added. "No matter how it turns out, that's the most we can ask from anyone."
Klein is self-employed now with his tree service in the Paynesville area, which allows him to make sure he is free for practices and games. "I know the boss," he said, "so I can get my work scheduled to get it done."
Klein attended Paynesville High School himself but didn't play sports after ninth grade. He actually dropped out but later earned his GED and then a degree from SCSU in chemical dependency counseling. He, his wife Janet, and JessiccaLee live in rural Paynesville. As well as attending practices and games, he enjoys bumping volleyballs, shooting hoops, and playing catch at home with JessiccaLee.
He said he was very honored to receive the Fan of the Year award and feels lots of parents and lots of fans in the stands for PAHS games deserve the award: "As I sit in the stands, I'm inspired by them."
He also said he was impressed with the dedication of parents and coaches involved in the booster club. They are clearly going beyond their formal job requirements, which shows their interest in developing young people, he said.
Being "coachable," he noted, is an underrated trait, a real life lesson that can be learned through sports. After all, we all need to be coachable, he said.
Previous Fans of the Year were: Barb and Dave Hess in 2005; Donna and Lew Ahrens in 2004; Elda Mae Krupke in 2003; and Press editor Michael Jacobson in 2002.
---
Contact the author at editor@paynesvillepress.com • Return to Sports
Home | Marketplace | Community
---