The Bulldogs baseball team - who won the Class AA state title last year and are ranked #1 in the state this year - started their 2006 season with two wins last week, including a 5-1 victory over conference rival St. Cloud Cathedral, ranked #19 in Class AA on Friday.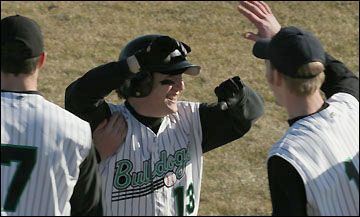 Senior John Hemingson struck out 11 in a complete-game pitching victory, while senior Trent Hansen supplied the biggest offensive blow with a three-run homer in the fourth inning.
With two out and runners on second and third in the bottom of the fourth, Hansen faced a 3-2 count when he lofted a long fly to left that hit off the top of the fence and caromed over the fence for a three-run homer, giving the Dogs a 5-0 lead, which was more than Hemingson would need.
Senior Trent Hansen celebrated his three-run home wtih teammates Cory Niefield (left) and Derk Stanger (right) as the Bulldogs baseball team beat St. Cloud Cathedral 5-1 on Friday.
Hemingson, a four-year starter at catcher, struck out 11 in his second varsity pitching start. He started the game with five scoreless innings before Cathedral scored an unearned run in the fifth inning. With runners on second and third and one out, Hemingson could have tried for a play at the plate on a come-backer to the mound but opted for a sure out and then retired the side.
Three seeing-eye ground balls by Cathedral filled the bases in the top of the seventh with one out - putting the tying runner at the plate - but Hemingson again pitched out of the jam, recording a strikeout for the second out and getting a fly ball to left for the final out.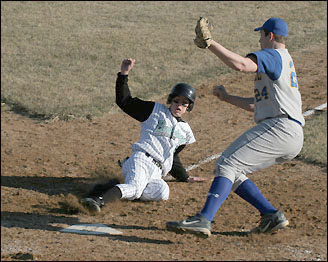 The Dogs took a 1-0 lead in the first inning on an RBI double by senior James Paul, who also caught for Hemingson, including throwing out a runner trying to advance to second on a pitch in the dirt.
Junior Tyler Zimmerman scored a run on a wild pitch against Kimball on Tuesday, April 4, as the Dogs beat the Cubs 15-5 in their season opener.
Senior Derek Stanger hit an RBI double to left in the third inning for the Dogs to lead 2-0.
"The guys played great," said coach Brad Skoglund of their win against Cathedral, who tied with the Dogs for the conference title last year at 7-3.
The Dogs (2-0) hosted Eden Valley-Watkins in a nonconference game on Monday and traveled to Long Prairie for another conference game against LPGE on Tuesday.
Next week, they will travel to Minnewaska on Tuesday, April 18.
| | | | | | | |
| --- | --- | --- | --- | --- | --- | --- |
| Cathedral-- | 000 | 001 | 0 | - 1 | 3 | 1 |
| Paynesville-- | 101 | 300 | x | - 5 | 6 | 1 |
Cathedral - Batting: Glen Carnahan 1-3; Matt Carlson 1-3; John Poganski 1-3; Pitching: (ip-h-r-er-bb-k) Tom Spaniol (L) (3-4-2-2-1-3); Glen Carnahan (2 ip); Name Unknown (1 ip).
Paynesville - Batting: Trent Hansen 2-4 HR RBI-3; James Paul 2-3 2B R RBI SB; Derek Stanger 1-3 2B RBI; Chuck Mackedanz 1-2 R; Pitching: (ip-h-r-er-bb-k) John Hemingson (W) (7-3-1-0-2-11).
Paynesville 15, Kimball 5
Seniors Mark Andrie and Ryan Hess delivered back-to-back RBI singles in the bottom of the fifth to invoke the ten-run rule against Kimball in the Dogs' baseball opener on Tuesday, April 4.
The Dogs, aided by a dozen walks from the Cubs' pitchers and a half dozen errors, won the game 15-5.
Kimball took a 3-0 lead with three runs in the top of the first, but the Dogs answered with a six-run rally in the bottom of the first, based largely on walks and Kimball errors. Senior John Hemingson had the only hit in the inning for the Dogs, an RBI single.
The Dogs continued their offensive barrage, aided by errant pitching and porous defense by Kimball, scoring at least two runs in all their at bats despite tallying only six hits for the game.
The Dogs led 13-3 going into the top of the fifth but yielded two runs. After two walks to start the inning, Andrie hit a looping liner to left center to make it 14-5 and Hess followed with a line-drive single to right to end the game 15-5.
| | | | | | | |
| --- | --- | --- | --- | --- | --- | --- |
| Kimball-- | 300 | 02x | x | - 5 | 6 | 5 |
| Paynesville-- | 632 | 22x | x | - 15 | 6 | 1 |
Kimball - Batting: Devin Rosenow 1-3 RBI-2; Chris Barthel 1-3 R RBI; Pitching: (ip-h-r-er-bb-k) Barthel (L) (3-3-10-6-6-3); Rosenow (1-1-3-3-4-0); Jeff Hunt (0.1-2-2-2-2-0).
Paynesville - Batting: Derek Stanger 1-1 R-2 RBI SB-2; Trent Hansen 1-2 R-3 SB-3; John Hemingson 1-2 R-2 RBI; James Paul 1-2 R-3 SB-3; Mark Andrie 1-3 RBI-2; Ryan Hess 1-3 RBI-2 R; Pitching: (ip-h-r-er-bb-k) Paul (W) (4-4-3-3-4-5); Ben Moser (1-2-1-1-2-1).
---
Contact the author at editor@paynesvillepress.com • Return to Sports
Home | Marketplace | Community
---